24 Nov 2021
Customers Council discusses proposals with Abra owners and operators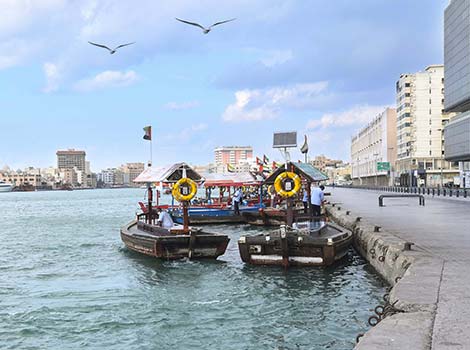 Dubai Roads and Transport Authority's Customers Council hosted a Traditional Abras Owners and Operators gathering at Umm Suqeim Majlis, in the presence of Mohammed Obaid Al Mulla, Member of the Board of Executive Directors and Chair of RTA's Customers Council, Mohammed Abu Bakr Al Hashmi, Director of Marine Transport at RTA's Public Transport Agency and several members of the Customers Council as well as a number Community Development Authority officials.
Al Mulla started the meeting by welcoming owners and operators of traditional Abras, officials of the Community Development Authority and the residents of Umm Suqeim RTA's senior management sets providing services to all community segments as a top priority and remains committed to raising the level of satisfaction through continuous improvement of services. Achieving such goals requires the use of the top global practices and the latest technologies to surpass customers' expectations through effective communication and receiving customers feedback and initiatives.
Al Mulla listened to an array of suggestions, ideas and comments relating to some practices in the use of traditional Abras. He stressed the keenness of all agencies and sectors of the RTA on examining ideas, proposals and feedbacks of the public and implementing the most feasible ones. It also felicitates the owners of the best proposals and constructive ideas.
The meeting also included a visual presentation explaining RTA's vision and mission, the organizational structure of the Marine Transport Department, and an overview of traditional Abras and the services of the Marine Transport Department. It also covered statistics of the marine transport fleet comprised of all types of Abras, buses, water taxis and ferries. It also included initiatives to support the owners and operators of Abras with biofuel and the uniforms for operators supported bearing RTA's logo.
Al Mulla concluded by thanking the Community Development Authority for their cooperation with the RTA's Customer Council and applauded their great efforts in improving the social living of residents of Dubai.