Aug 23 2019
Briefing two delegations on BIM experience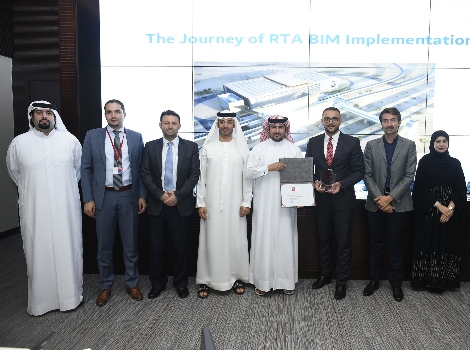 A delegation from Dubai Aviation Engineering Projects (DAEP) and another from Abu Dhabi Transmission and Despatch Company (TRANSCO) recently visited Roads and Transport Authority (RTA). Visitors aimed to familiarize with RTA's recent achievement in Building Information Modelling (BIM), and also carry out benchmarks in respective fields.

Saeed Al Ramsi, Director of Asset at RTA's Strategy and Corporate Governance Sector, welcomed the visiting delegations indicating that RTA had a rich experience in BIM, rendering it a focal point for government and private entities seeking to benefit from such an experience. "The two delegations were briefed on BIM of RTA's construction projects with the aim of aligning them with the top international standards. Discussions also touched on certificates achieved by RTA as the first entity in the world compatible with (UK BIM Level 2) requirements," he said.

"At the gathering, RTA's Asset Department specialists highlighted RTA's BIM experience and practices over the past five years; which were endorsed as part of a strategic drive for the digitization of Asset Department.
RTA is always keen to cooperate and share knowledge with all strategic partners and government departments. Such efforts serve the objectives of Dubai Government's Smart City initiative as well as RTA's first strategic goal Smart Dubai and seventh Strategic Goal Advance RTA. Such efforts warrant using edge-cutting techniques to achieve those objectives by using the latest means and systems to achieve shared objectives and enhance our corporate performance to excellence standards," concluded Al Ramsi.