Feb 17 2020
Briefing members of National Experts Program on Enterprise Control Centre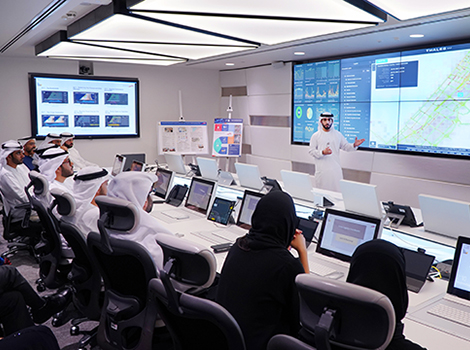 Dubai's Roads and Transport Authority (RTA) briefed a delegation from the National Experts Program (Transportation Sector) on the processes and tasks of the Enterprise Command and Control Centre (EC3). The EC3 is considered one of the biggest and most advanced traffic control centres worldwide in terms of technologies used and the control of multimodal transport systems.

Coordinating the visit reflects RTA's keenness to support the mission of the National Experts Program; the first programme of its kind launched by Abu Dhabi Crown Prince's Court under the patronage of His Highness Sheikh Theyab bin Mohammed bin Zayed Al Nahyan, Chairman of Abu Dhabi Crown Prince's Court. It aims to train 21 Emirati technology experts and groom them as leaders of the future of UAE transport sector.

"The programme provides training on multiple disciplines and equips inductees with rich knowledge and empowers them to steer the development drive of the nation. The delegation toured the sections of EC3 and reviewed its roles, objectives and processes. They were also familiarised with the Crises Management Centre; which caters to the tactical and strategic management of incidents that may impact RTA processes 24/7. A host of Emirati engineers amongst the staffs of RTA are enrolled in the programme," said Muna Alosaimi, Director of Strategic Transportation Planning, RTA.

"The significance of the visit stems from the role of the centre which links different operational control centres of RTA with a central control unit connected with various agencies of RTA and has the potential to connect with other relevant external entities in future. The delegation was also briefed about an array of topics including the management of incidents, management of integrated transit means, data analysis, data collection and compilation of reports," she added.

"RTA gave an elaborate explanation of its handling of emergencies and crises along with technologies in use to ease the communication and remote monitoring, to enable other teams to make appropriate decisions," added Alosaimi. She reported that the delegation members praised the role of the centre and the modern techniques and technologies in use.