Mar 04 2019
Al Tayer advocates scientific concepts in RTA's projects as winners of Scientific Research Awards felicitated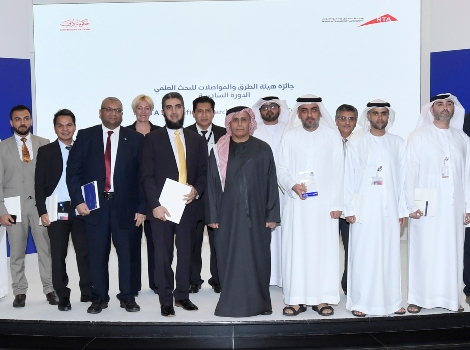 HE Mattar Al Tayer, Director-General and Chairman of the Board of Executive Directors of the Roads and Transport Authority (RTA), stressed that the RTA has adopted scientific methodologies in all projects since its establishment in 2005. He noted that RTA has acknowledged that corporate development would rest on the adoption of scientific approaches across all strategic plans, and that the concept of the 'Educated Institution' had become the cornerstone of RTA's future thinking.

Al Tayer made these remarks when honouring the winners of the 6th RTA's Scientific Research Award. The winner of the General Research category (Team) was Sayed Ismail bin Sayed Yahya, and Ahmed Lashkari Al Balooshi, for research entitled: Development of Dubai's Light Motor Vehicle Smart Yard. The runner-up (Individual) was Sahar Abdul Rahman Mustafa for research entitled: (The Impact of Implementing policies & legislations regulating Commercial Land Transport on the Growth of Commercial Transport – Applied Study). The third (Individual) was Bashaar Taha for research entitled: (Hosting Mega Event Dubai EXPO 2020 a Drive towards Sustainable Planning - Case Study: Dubai Metro Extension Line Route 2020).

Al Tayer also honoured winners of the Future Foresight Research category. The winner was Musa Mohammed Al Rayeesi for research entitled (Using Drones in Monitoring and Inspection). Sarah Ishaaq Mohammed finished second for research entitled (Future Modes of Transport in Dubai). The third-place winner was Mowaffaq Mahmoud Taleb for research entitled: (Using Artificial Intelligence in Taxi Operation).

In the individual awards category, the winner was Nasir Abdullah Bina for research (Cost Saving in Railway Operation & Maintenance), and Othman Hasan Al-Khateeb for the research (Preventive and Predictive Maintenance: A Case Study in Electronic Toll Collection System).

In the team awards category, the winners were Amro Musallam and Mohammed Taher Arafa for the research (Benefits Realization Management Maturity Model (BRM3) for RTA and Government Projects and Programs). Cala Acuna and Britta Lanc won for research entitled (VirtuDrive – a Virtual Reality Hazard Perception Testing Tool). Alaa Udeen Al-Hajji and Juma bin Butti Al Mutawa'a won for research entitled (Transforming RTA into an Agile organisation: Challenges and Opportunities).

In the Freshman Researcher category, the winner was Maryam Bilal Abdullah for research named (Reclaimed Asphalt Pavement), and Masoud Mufti for research about (The Blind and People of Determination).

Al Tayer also honoured the winning agencies and departments in terms of the number of submissions made to RTA's Scientific Research Award. The winners were the Dubai Taxi Corporation and Fleet Operations Management. He also honoured members of the jury namely: Prof Basim Mohammed Younes from Imperial University-London, Dr.Yaser Hawas (University of Sharjah), and Dr Mustafa Nour Uddin Hasan, ( Hamdan bin Mohammed Smart University). He also honoured the award's team comprising Khaled Mohammed Salih, Muna Omar Al Zarouni and Ayad Al Balawneh.