20 Apr 2022
Al Tayer participates with RTA's volunteers in delivering Ramadan initiatives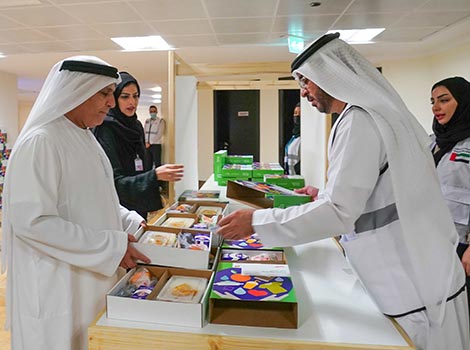 His Excellency Mattar Al Tayer, Director-General, Chairman of the Board of Executive Directors of the Roads and Transport Authority (RTA) praised the volunteering work of employees and their active participation in delivering an array of humanitarian and community-oriented initiatives and events held by RTA during the holy month of Ramadan.
Al Tayer made these remarks while taking part in the humanitarian and social initiatives run during the holy month of Ramadan along with several CEOs and employees of various sectors and agencies of RTA. Such interaction is a clear testament to the values of giving and the practising of social responsibility.
"RTA is keen to carry out Ramadan activities and programmes to maximise the benefits of target groups and ensure that volunteering teams and organisers stick to the applicable preventive measures while serving iftar meals. RTA's social initiatives add to the practice of the UAE in rolling out humanitarian initiatives and philanthropic activities. The UAE boasts of magnificent global achievements, thanks to the vision of our leaders that established the pillars of social responsibility, and capitalised on the abilities of youth in running volunteering works locally and abroad," said Al Tayer.
In the context of its social responsibility, RTA is collaborating with the First Abu Dhabi Bank, and KEOLIS-MHI , the operator of Dubai Metro and Dubai Tram, in delivering several humanitarian initiatives during Ramadan. Such initiatives target a variety of groups including bus drivers, workers, delivery bike riders , truck drivers, orphans and fixed-income families.
Quality Initiative
This year, RTA is organising two Ramadan initiatives. The first is 'Meals-On-Wheels, which targets bus drivers, workers, delivery bike riders , and truck drivers. Partners include First Abu Dhabi Bank, KEOLIS-MHI y, Emirates General Petroleum (Emarat), Continental Tires, Beit Al Khair Society, Red Crescent, and Dar Al Ber Society. It provides 30,000 meals, at a rate of 1,000 Iftar meals per day. RTA will also provide 17,500 iftar meals, in cooperation with volunteers at its Head Office, and a special bus will be deployed to distribute meals.
The second initiative is 'Ramadan Rations,' which coincides with Zayed Humanitarian Day. Prepaid nol cards will be distributed to low-income families, which can be used in shopping at major retail stores, to meet the needs of recipients during the holy month.