May 21 2019
Al Tayer honours 4085 volunteers contributing 23 thousand hours to RTA's initiatives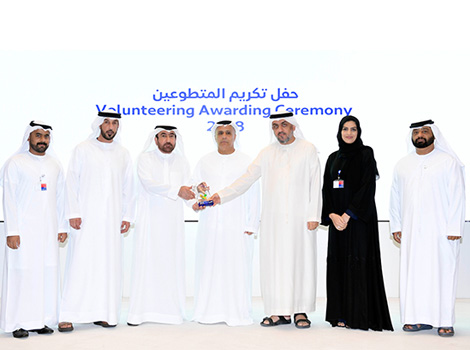 HE Mattar Al Tayer, Director-General and Chairman of the Board of Executive Directors of Roads and Transport Authority (RTA), honoured 4085 volunteers; 3669 from outside RTA, and 416 from RTA including 38 posted in leading positions. During the event, which was held in recognition of the immense contribution of volunteers in the successes of RTA's 2018 initiatives, also included honoring of 13 employees who achieved more than 50 volunteering hours, and 9 others for giving more than 30 volunteering hours.

Al Tayer thanked all volunteers from or outside RTA for offering 23,791 volunteering hours. He noted that such a remarkable charitable effort reflected a commitment to make those events a success. He called for continuous efforts and more volunteers, especially in the Year of Tolerance.

"Volunteering is a key cultural component of the community enabling its members to develop the practice, knowledge and passion of giving. Volunteering has multiple benefits to the community such as nurturing social solidarity, sense of belonging to the community and nation, besides leveraging the communication skills between community members," he said.

"Volunteers we celebrate today have supported a variety of social, humanitarian, national and environmental events held by RTA. They have made generous efforts befitting the image, commitment and responsibility of RTA to the society, Dubai and the UAE," added Al Tayer.

It is noteworthy that RTA had launched several community-oriented events last year highlighted by Kiswa as part of the Dubai Day initiative unleashed by HH Sheikh Hamdan bin Mohammed bin Rashid Al Maktoum, Dubai Crown Prince and Chairman of the Executive Council, which drew the participation of 3194 volunteers from RTA and beyond.

Initiatives included Meals on Wheels (Bus for Good), Ramadan Aman, Ramadan Rations, and the Dubai Audio Library; the world's largest Arabic audio library set to engage 10 thousand volunteers to target 7 million visually challenged individuals across the Arab world. RTA had also donated two buses, 50 bicycles, and 400 school bags to schools at remote areas in Tanzania and Uganda. Additionally, RTA also constructed two classrooms, donated 9 Tuk-Tuks (Rickshaw) and school bags in Egypt.