11 Sep 2019
Al Tayer explores cooperation in autonomous transport with German delegation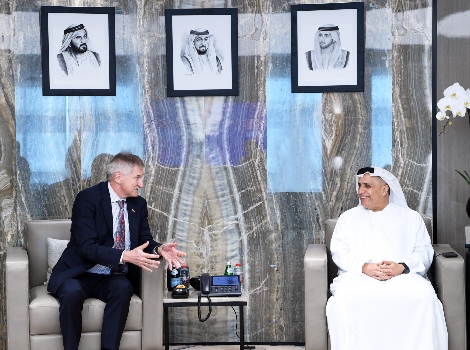 HE Mattar Al Tayer, Director-General and Chairman of the Board of Executive Directors of Roads and Transport Authority (RTA), has received HE Holger Mahnicke, Consul General of the Federal Republic of Germany in Dubai accompanied by a delegation comprising representatives of major public and educational entities as well as leading firms in Germany. Visitors included Prof. Dr. Ing. Hartmut Fricke – Chair of Air Transport & Logistics; Ms. Ursula Clever – Executive Office, Federal Ministry of Transport and Digital Infrastructure; and Prof. Dr. Markus Friedrich – University of Stuttgart, Institute of Road and Transportation Science (ISV) Department for Transportation Planning and Traffic Engineering The meeting discussed cooperation in autonomous transport and control systems between RTA and its counterpart in Germany, and RTA's plan in this regard.

Al Tayer welcomed the delegation and praised the relationships between RTA and German entities and firms in the field of transportation. He briefed the delegation on RTA's trials of the Autonomous Air Taxi along with the ongoing coordination of operational of Air Taxi requirements with federal and local aviation authorities covering developing relevant laws and policies, specifying aerial corridors together with takeoff/landing spots and safety and security standards.

Al Tayer commented that undertaking the technological tests of autonomous air vehicles was part of Dubai's Self-Driving Transport Strategy aimed at transforming 25% of total mobility journeys in Dubai into driverless journeys by 2030.

The delegation attended a briefing about the Enterprise Command and Control Centre (EC3); one of the biggest and most sophisticated control centres in the world in terms of utilizing smart technologies. It controls and integrates various RTA's mass transit systems (metro, tram, buses, taxis and water transport), and connects several traffic control centres. Thus, it enables the efficient planning of mobility journeys besides coping with different transit challenges.

In 2018, the EC3 monitored more than 170 events across the Emirate, which ensured the smooth flow of traffic during such events. Through the application of artificial intelligence technology, the centre processes big data to the amount of 75 million mobility logs per day. Streamlining the mobility during mega-events hosted by Dubai is obviously vital for the upcoming Expo 2020.

The German Consul General in Dubai was delighted with the involvement of German firms in the implementation of RTA projects. He expressed hopes to boost bilateral cooperation and exchange expertise in the interest of both parties.