Jun 09 2020
Al Tayer approves RTA Youth Council Plan 2020
(RTA seeks to qualify new generation of competent youths)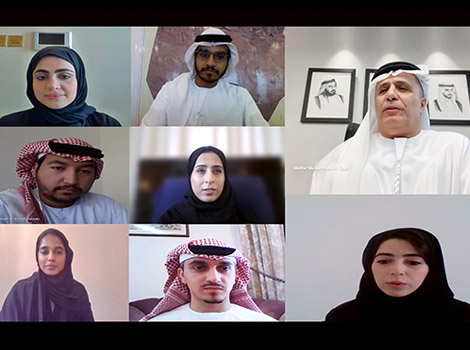 His Excellency Mattar Mohammed Al Tayer, Director-General and Chairman of the Board of Executive Directors of Roads and Transport Authority (RTA), approved RTA's Youth Council Plan 2020 built on three pillars: Empowerment, Communication and Engagement.

During a remote video meeting with the Council members, which is formed of an elite bunch of youth from various sectors and agencies of RTA, Al Tayer reviewed and endorsed the Youth Council Plan 2020.

The first pillar of the plan focuses on the empowerment of youth. It seeks to avail them of opportunities to grow and learn through dedicated programmes, field visits, polls, and innovative tools in various fields.

The second pillar seeks to raise the voice of youth by creating communication channels between the Council and RTA youth. It requires holding periodic meetings and setting interactive platforms for RTA youths.

The third pillar focuses on engaging and involving RTA's youth in internal and external initiatives as well as initiatives undertaken by the Council.
"The UAE leadership is very keen on supporting youth and catering to their welfare, considering them the true wealth of the nation. They have therefore nurtured an environment to motivate and promote the skills of young Emiratis and direct them in the right way to build the nation," said Al Tayer.

His Highness Sheikh Mohammed bin Rashid Al Maktoum, Vice-President and Prime Minister of the UAE and Ruler of Dubai, always stresses that qualifying youth to assume their national duties has been a firm Emirati practice since the establishment of the UAE.

"In implementation of the directives of His Highness Sheikh Hamdan bin Mohammed bin Rashid Al Maktoum, Dubai Crown Prince and Chairman of the Executive Council, to foster and support youth, RTA provided an ideal environment for youth to develop innovative tools and envision the future. It seeks to harness their skills to lead the development drive in future. RTA leaders, such as CEOs, Directors, Advisors and Experts will be in hand to give proper orientation to RTA youth," he added.

Al Tayer exuded confidence in the members of Youth Council, who are the voice of 664 youth across the RTA. He wished members every success in developing creative initiatives and encouraged them to take active participation in RTA's initiatives for 2020.

Members of Youth Council praised the huge support of RTA leaders to youths and programmes designed to promote and cultivate their skills. The also hailed the plans set to attract and retain young and talented Emiratis, and encourage them to innovate and develop leadership and administrative skills.

It is noteworthy that the newly composed RTA Youth Council consists of Raghas Omar Al Ansari as Chairperson and Saeed Ishaaq as Deputy Chairperson, in addition to Hamda Al Hattawi, Eisa Al Jasmi, Sheikha Al Ali, Hamad Al Shizawi, Huda Ahmed, Mariam Bilal, Rashid Al Kaabi and Suhaila Farouq as members.