11 May 2022
Ahmed bin Mohammed honours winners of Dubai Award for Sustainable Transport 2021
(The Award attracted 140 nominations and featured five main categories and seven special categories)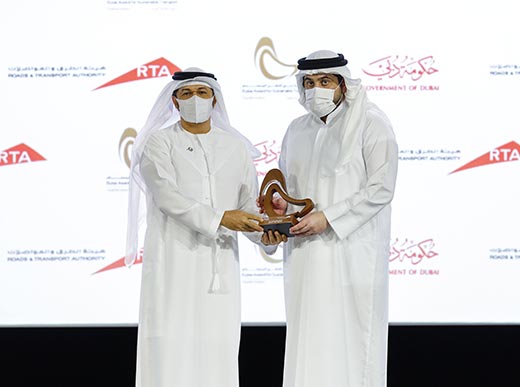 Under the patronage of His Highness Sheikh Hamdan bin Mohammed bin Rashid Al Maktoum, Crown Prince of Dubai and Chairman of The Executive Council of Dubai, His Highness Sheikh Ahmed bin Mohammed bin Rashid Al Maktoum, Chairman of the Dubai Media Council, today honoured winners of the 12th edition of the Dubai Award for Sustainable Transport 2021 (DAST). The Award, launched by Dubai's Roads and Transport Authority (RTA), seeks to encourage the public and private sectors to adopt sustainable solutions that can reduce congestions, conserve the environment and step-up mobility safety levels.
Upon his arrival at the Dubai World Trade Centre, His Highness was received by His Excellency Mattar Al Tayer, Director General, Chairman of the Board of Executive Directors of the Roads and Transport Authority, as well as a host of senior executives of public and private entities.
During the Award ceremony, His Highness watched a video on the Dubai Award for Sustainable Transport, which highlighted the efforts made to conserve the environment, optimise the use of natural resources, and implement the principles of sustainable development. The film also highlighted the importance of such efforts in shaping the future of the humanity, creating a healthy environment, and infusing the concept of mass transport to curb carbon emissions.
During the event, Jeff Speck, City Planner and Urban Designer, Speck & Associates LLC, delivered a speech that discussed the specifications of walkable cities. He shared the key elements to provide a pedestrian-friendly environment, namely mixed land uses, so that residential neighbourhoods can have integrated services such as parking spaces, and enhanced public transportation as well as safe, convenient and enjoyable walkways.
"We should encourage walking as a sustainable mobility option and urban re-planning to match the trend of sustainable cities," said Speck. He reflected on some pioneering models to encourage residents to walk. He highlighted how some bridges in New York City were converted into longitudinal pedestrian parks.
Winners
His Highness Sheikh Ahmed, accompanied by HE Mattar Al Tayer, then honoured the winners the Award's various categories. The total number of entries this year reached 140, distributed across five main categories and seven special categories. In the Mobility Management category, the Transport Authority - Government of Ajman won first place for their Bus On Demand Service, while Tramway Rabat-Salé was the runner-up for a tramway in Rabat city. The third place was shared by Greater Amman Municipality for their Amman Bus Service, and DP World for developing a real-time system at site.
In the Transport Safety category, Dubai Municipality came in first for the Mobility Security and Safety Sustainability Project for their vehicle fleet. The runner-up was Tatweer Educational Transportation Services Company in Saudi Arabia for an initiative launched to enhance the security and safety of educational transportation. Abu Dhabi's Integrated Transport Centre ranked third for its initiative to reduce the number of accidents resulting from leaving inadequate safety distance between successive vehicles.
Environment
In the Environmental Protection category, Sheikh Ahmed honoured DP World for an initiative launched to transform fuel-powered trucks into battery-powered trucks. Etihad Rail came in second place for an initiative on environmental sustainability in projects, and Emirates National Oil Company (ENOC) won third place for their future refueling stations initiative.
In the Transport for People of Determination category, KGL Private Passenger Transport Services won first place for an initiative launched to facilitate free transportation for the People of Determination, seniors and children under 10, in addition to providing facilities for People of Determination on buses. Mwasalat Misr came in second for providing People of Determination with discounts on buses. Dubai Public Prosecution won third place for an initiative they launched that seeks to meet the mobility and accessibility needs of People of Determination.
In the Pioneering City in Sustainable Transport category, Greater Amman Municipality was crowned first place winner for submitting a model document that depicts various elements that make Amman a pioneering city in sustainable transport.

Media Coverage
In the Special Awards category, HH Sheikh Ahmed honoured Maitha Almheiri, Yara M. Tillawi and Sara Numan from the University of Sharjah won the Best Student Project/Research award in the field of sustainable transport. The research offered scientific and realistic solutions to mitigate the environmental impact of marine transport in Dubai. In the same category, Shamma Ali Alsuwaidi and Fatima Butti Alsuwaidi from the University of Sharjah won as runners-up for a research they developed on generating power from the movement of vehicles to light up streets. Mohamed Qais Alkatheeri, Abdalla Bader Ali Alyassi, Abdulla Fahad Alkaabi from Sharjah's Applied Technology High School won third place for their research on easing the movement of People of Determination.
In the Best Academic Project/Research category, Khaled Hamad and Lubna Obaid from University of Sharjah won first place. The runner-up was Zeeshan Hameed from Fujairah's Higher Colleges of Technology, while Juliette Martinez from Middlesex University Dubai came in third.
During the ceremony, Etihad Rail was honoured for winning in the Best Sustainable Partner category. In the Best Sustainable Contractor category, Acciona won for its role in implementing the Dubai Metro Route 2020 project, while the Best Sustainable Consultant award went to Parsons Systra.
The Best Journalist award went to Manal Ibrahim Mohammed from Dubai Police's Media Security Department, who won for her role in raising awareness on traffic safety principles and the Dubai Award for Sustainable Transport.
His Highness also honoured members of the jury, headed by Dr. Hamdan Al Shaa'er, as well as sponsors of the 12th edition of DAST.
Commenting on the occasion, HE Mattar Al Tayer, Director General, Chairman of the Board of Executive Directors of the RTA, highlighted the successful role of the Award in enhancing awareness among individuals and organisations on the importance of adopting innovative and practical solutions to enhance sustainable transport systems in the community. The Award has also highlighted the need to conserve natural and environmental resources for future generations.
"The Award has witnessed constant development in its mechanism in line with the tremendous growth of RTA's projects and initiatives. The Award has also expanded its participation to enable more government and semi-government entities, as well as private entities to contribute to the development of sustainable transport in the UAE, over and above RTA's efforts in this regard," said Al Tayer.