29 Nov 2021
Celebrating 50th UAE National Day
(Mass transit means were dressed in The Year of the 50th logo)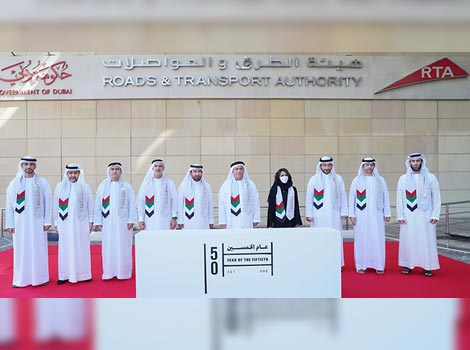 His Excellency Mattar Mohammed Al Tayer, Director-General, Chairman of the Board of Executive Directors of the Roads and Transport Authority (RTA) attended RTA's celebrations of the UAE 50th National Day. Celebrations included an array of events meant to boost the social cohesion and national identity amongst Emiratis and residents alike. RTA's premises, some of Dubai Metro & Tram carriages, public buses, taxis, and Dubai Ferry boats were emblazoned in the state flag and the logo of The Year of the 50th.
RTA's celebrations are manifestations of joy marking the 50th UAE National Day and the continued development of the nation, thanks to the inspiring vision of its leadership, and the loyalty of its people to their leaders who made incredible achievements to boost the global profile of the nation.
Scores of employees attended the events and voiced their congrats and wishes to the leaders and people of the UAE. Events included entertainment and heritage activities. RTA organised the Future Path platform, where employees placed messages of thanks and appreciation to the UAE leaders bearing good wishes for the next 50 years. The activities included the Union Bazar where popular dishes and heritage products as well were offered by the participating employees.
Launched on November 25,2021 the Bazar will continue until November 30, 2021. There was also a henna corner, and gifts were distributed marking the Year of the 50th. Traditional bands made folk art performances along with patriotic songs expressing the achievements and love of the people for the UAE and its leadership, which stands as a symbol of concerted efforts to establish the union.