Oct 22 2017
RTA rolls out diverse sporting events in Week 1 of Dubai Fitness Challenge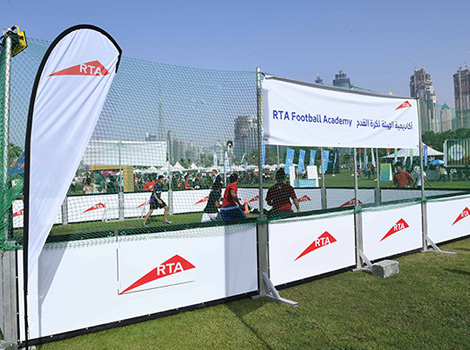 The Dubai's Roads & Transport Authority (RTA) took part in the 'Dubai Fitness Challenge' initiative, which kicked off on Friday, October 20, 2017 by holding various sports events in RTA's premises including the head offices of Public Transport Agency Dubai Taxi Corporation. RTA has also participated in outdoor activities in many areas in Dubai emirate including Dubai Water Canal, Safa Park, Dubai Marina Walk and Mushrif Park.

Ibrahim Al Haddad, Director of Commercial and Investment cum Head of Sports Team of RTA said: "RTA kick-started its participation in the 'Dubai Fitness Challenge' with outdoor events on Friday, October 20 and Saturday, October 21. These events were held in cooperation with governmental and semi-governmental organisations, business community and the general public in Dubai. RTA participated in Friday's carnival activities in Safa Park, where specialised entities organised several sports events. On Saturday, RTA organised a fun running festivity for the public at the Dubai Water Canal area and participated in a carnival that included various activities at Safa Park. RTA also conducted a yoga session at sunset on Dubai Marina Walk on the same day."

"RTA holds other various sports events in its Head Office, in addition to the head offices of the Public Transport Agency and Dubai Taxi Corporation. These events include InBody Analysis for men and women, stairs climbing challenge for men and women, drivers' football tournament and drivers' running tournament among other events that reflect RTA's challenge spirit in Dubai Fitness Challenge Initiative," concluded Ibrahim Al Haddad.