Oct 30 2017
RTA and IRF ink MoU to launch global alliance & adopt modern technology of sustainable roads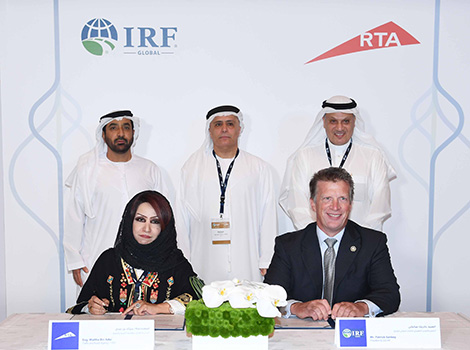 HE Abdullah Al-Mogbel, Chairman of the International Road Federation (IRF), and HE Mattar Al Tayer, Director-General and Chairman of the Board of Executive Directors of the Roads and Transport Authority (RTA), witnessed the signing of a Memorandum of Understanding (MoU) between the RTA and the IRF Middle East & North Africa Regional Congress & Exhibition held under the theme "Mobility Solutions for the 21st Century."
The MoU was signed on behalf of the RTA by Engineer Maitha bin Adai, CEO of RTA Traffic and Roads Agency; and on behalf of the IRF by Mr. Patrick Sankey, President cum CEO of the IRF, in the presence of scores of directors and staff members from both sides.
"The MoU, which comes in line with the UAE Vision 2021 and Greening the Economy, aims at launching the Excellence Center for Energy & Environmental Sustainability in Road Design to benefit from the latest experiments, research data and specialized studies related to road design. It also aims to provide practical training to road researchers, introduce modern technology of sustainable roads, and foster partnerships between government institutions, academic centers and private companies through specific & specialized programs in this field," declared engineer Maitha bin Adai.
"Pursuant to this MoU, a global alliance of connected roads will be launched, with the aim of utilizing the existing expertise of the IRF, which participates with nearly 400 partners hailing from more than 70 countries, including researchers and smart infrastructure interested parties. The target of transforming 25% of all transportation in Dubai into smart and driverless by 2030, requires conducting specialized studies, and infrastructure scientific research, particularly smart traffic control means. It also requires entry and exit management, and speed control procedures without compromising pedestrian crossings, which contributes to upgrading infrastructure in line with future plans," continued bin Adai.
Mr. Patrick Sankey, President and CEO of the IRF, said: "We are delighted to sign this MoU with the RTA, which underscores the keenness of the two sides to combine efforts to enhance communication & cooperation through government partnerships. It also reflect the commitment of both parties to support all strategic initiatives & projects aimed at providing the best infrastructure for the roads & transport sectors as per the highest standards of traffic safety & facilities maintenance."
"The IRF will share the researches & views of leading road experts who boast of long experience in road design, energy and environmental sustainability," added Sankey.
"This MOU will contribute to upgrading the efficiency of modern roads & traffic services in Dubai emirate by overcoming the challenges facing mobility and devising the best solutions for smooth traffic flow in a way that achieves the RTA's vision and meets the aspirations of the residents, investors and visitors alike in order to shift the emirate to a new era of growth & development," concluded the President and CEO of the IRF.