Dec 14 2017
RTA and Dubai Police carry out boat collision drill to step up emergency response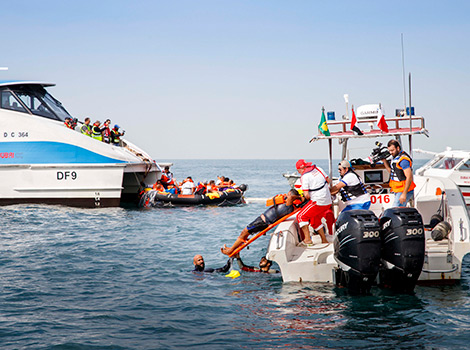 The Roads and Transport Authority (RTA), in collaboration with the General HQ of Dubai Police, has carried out a drill simulating a collision between Dubai Ferry and a boat, 2.5 nautical miles away from Rashid Port, triggering a fire in the rear of the Ferry.
The mock drill started at the Dubai Water Canal Station in Jumeirah and extended up to Rashid Port. Several entities were engaged in the mock crash including the Armed Forces, General HQ of Dubai Police, General Directorate of Civil Defence, Dubai Ambulance Services Corporation, DP World, Rashid Port, Dubai Maritime City Authority and a host of relevant service providers.

"The drill simulated a collision between one of RTA's marine transit modes, Dubai Ferry with 50 persons on board, sparking flames in the rear of the Ferry. It required a quick response for rescuing passengers and taking necessary actions to restore RTA's services," said Ahmed Bahrozyan, Head of Emergency and Crisis Management Team, RTA.

"We have achieved our objectives in testing the speed of the response of the Emergency and Crisis Management Team and verifying the extent of coordination between all parties involved in the response process.

"These drills are conducted under an annual plan aiming to raise the preparedness of the Emergency & Crises Management Team of the RTA as well as its counterparts in other government bodies in Dubai. It reveals to what extent these teams are ready to intervene and contain such accidents if occurred under any condition, God forbids. We are therefore keen to carry out such drills periodically with several government & semi-government entities in the Emirate," added Bahrozyan.

Lt. Colonel Expert Ahmed Ateej Burqaiba, Deputy Director of Search & Rescue Department, General Directorate of Transportation and Rescue, Dubai Police, praised the success of the drill. He also commended the interaction of all participants and their contribution to ensuring a speedy response to emergency cases. He hailed all rescue and ambulance operations for adopting the highest levels of security and safety at excellent standards. Such efforts, he noted, would contribute to achieving the strategic objective of Dubai Police in stepping up the preparedness for tackling crises and disasters. He added that the team assumed a variety of tasks including extinguishing of fire, clearance of passengers to safe areas, and offering immediate first aid to victims.