Oct 26 2017
Reviewing Belgium experience in improving marine transport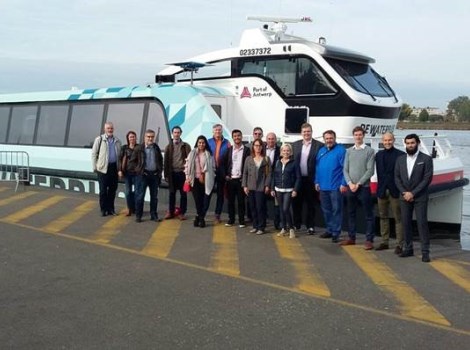 The Roads and Transport Authority (RTA) has reviewed the latest international practices in designing stations and the infrastructure of marine transport through a visit of RTA delegation to Antwerp city, Belgium. The visit is part of RTA's strategy to share relevant international expertise and familiarise with the latest developments in various fields of the industry, besides activating RTA's membership in the Waterborne Transport Platform, UITP.

Mansour Al Falasi, Director of Marine Transport, RTA Public Transport Agency, said, "The visit of RTA delegation to Antwerp (Belgium) was part of our endeavours to keep pace with the latest global trends of marine transport; which attracts considerable numbers of tourists, visitors and residents in Dubai. We have been acquainted with the procedures applied in operating the Ferry and the Water Bus in the city, and the best ways of motivating staffs in the marine transport. We have also examined the best practices applied to curb the emissions from marine transit modes, as we, as a leading government entity, are concerned with reducing the carbon footprint of marine transit modes and adopting green economy and sustainable energy concepts.

"The visit has achieved several successes such as: activating our membership in the Waterborne Transport Platform; which in turn will leverage our role in supporting this sector, and allow us access to the latest developments in the industry. We have identified the possibility of implementing a Ferry Manoeuvring System developed by Volvo IPS; which accelerates the boarding and alighting of passengers, besides assisting the compliance with journey timetables. We can also make use of the fare system designed to increase the number of riders, and carry out customers' satisfaction surveys in peak and off-peak hours," noted Al Falasi.

"These ideas will be examined and shared with RTA's senior leadership to identify the ones that conform to Dubai drive and RTA's vision of providing 'Safe and Smooth Transport for All', concluded the Director of Marine Transport