Dec 04 2017
Launching MENA's first Building Information Modelling-BIM Center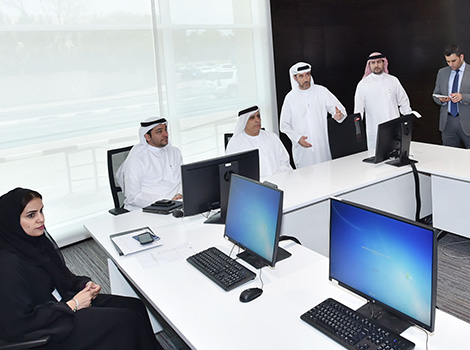 HE Mattar Al Tayer, Director-General and Chairman of the Board of Executive Directors of Roads and Transport Authority (RTA), has opened at RTA's Head Office the Building Information Modelling-BIM Center. Accordingly, the RTA has become the first government entity to launch a centre of this type in the MENA region.
Al Tayer was delighted with the operation of this Center, which intended to contribute to realising the vision of Dubai Government for turning the city into the smartest and happiest city in the world. The achievement of such an objective is possible through capitalising on modern technologies and nurturing an interactive and sophisticated environment for communication and coordination with partners undertaking various RTA's projects.
"The Center has brought in a huge shift in leveraging RTA's business and cementing its leading position in making excellent performance and ensuring an active participation in revamping the building industry in the region and the world over. It focuses on high technology in managing project information during their lifecycles, right from the design stage up to the operation and maintenance phase," said Al Tayer.
"The Center aims to foster a smart and interactive environment engaging all stakeholders of RTA's projects," said Saeed Al Ramsi, Director of Assets at RTA's Strategy and Corporate Governance Sector. "Meetings and workshops will be held to coordinate and follow-up projects and review the latest development besides taking appropriate decisions thereon. Stakeholders can rely on the 3D Models of these projects through applying modern technologies generated by the Center. They can also store and update the project data throughout their lifecycles," he continued.
"The Center is currently engaged in designing specialist workshops for employees of various RTA agencies and sectors about the BIM Software in a bid to empower them, upgrade their capabilities and enhance their knowledge of the system and its applications," added Al-Ramsi.
The RTA has made giant strides and impressive achievements at the regional and global levels in applying the BIM System; which has had a great repercussion on its reputation. It has already received the BIS accreditation in applying this system in the design and construction phase as well as the operation and maintenance phase. Since 2014, the RTA has applied the BIM System to its project. It has commissioned the essential studies, research, strategic plan, operation manuals governed by specific implementation standards and determinants. It has also started applying the system to an array of strategic projects.