Nov 01 2017
Huge participation and valuable prizes at Public Transport Day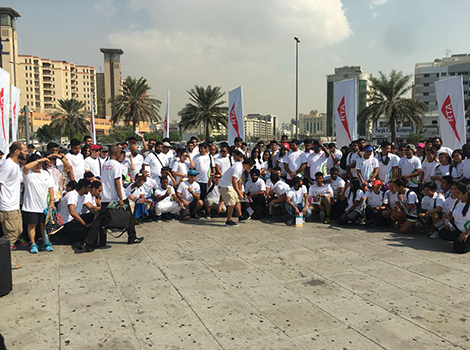 The 8th Public Transport Day 2017 has attracted huge participation from the public in general and public transport users in particular. The participants took part in a number of events held by RTA to mark this day, corresponding to 1 November of each year.

Abdullah Yousif Al Ali, CEO of the Public Transport Agency cum Chairman of the RTA Public Transport Day Committee, said that the events included diverse and enjoyable competitions featuring various community segments, including mass transit users.

"The sports event, dubbed 'Transport Day Race, featured the participation of 50 teams where the first winner received a cash prize of AED 50,000, the second winner AED 30,000, and the third winner AED 15,000," declared Al Ali.

"The other events held by the RTA to mark the Public Transport Day included the 'Golden Runner Contest' which was run via social media from October 23 to November 1st. Participants were required to follow the RTA's social networking sites to locate the Golden Runner who daily visited 15 RTA metro stations, 5 tram stations, 3 marine transport stations, and 2 public bus stations. The number of winners at this 10-day event were (30) who were awarded wearable e-prizes (Fitbits) as well as Apple watches and iPhone 8 cellphones," continued Al Ali.

It is noteworthy that this year's Public Transport Day coincides with the Dubai Fitness Challenge Initiative launched by His Highness Sheikh Hamdan bin Mohammed bin Rashid Al Maktoum, Crown Prince of Dubai and Chairman of the Dubai Sports Council, who invited all community segments to practice their preferred sport for 30 minutes per day from 20 October to 18 November 2017."