Nov 10 2017
Customers Council & private companies discuss upgrading services of business sector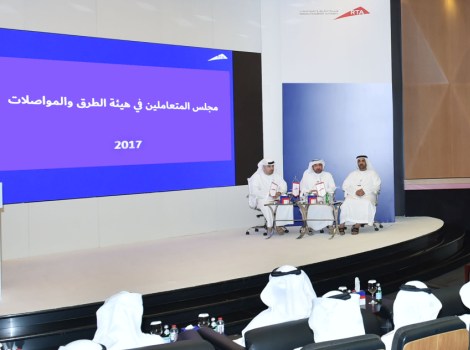 The Customers Council of the Roads & Transport Authority (RTA) discussed with representatives of a variety of private companies in Dubai several issues of common interest.At the start of the gathering, Mohammed Obaid Al Mulla, Member of the Board of Executive Directors and Chairman of RTA's Customers Council, thanked attendees for sharingviews and suggestions to upgradethe services on offer to the business sector.

Two visual presentations were made: the firsthighlighted the services provided to the business sector, as well as communication channels with the RTA, e-services and smart applications related to these services. The second one reviewed the process of applying for No Objection Certificate by the employer for a driving license through RTA's website, in addition tothe procedures guide, and how to activate online service. It also reviewed the application for a No Objection Certificate for a driving license for employees of the business sector and streamlining procedures to raise customers satisfaction & happiness.

Al-Mulla heeded to some ideas such as increasing the capacity of the e-NOC system, accelerating the online process of obtaining necessary permits and approvals, increasing parking spaces& rest areas of trucks and tourist buses in Dubai outskirts due to the high volume of commercial & tourismactivities. Al-Mulla was also briefed on the lighting of all industrial zones in Dubai emirate and increasing buses on F23 / F24 routes to accommodate the growing number of riders in this area.

"Studying these ideas and suggestionsreflects the keenness of RTA's top management to deliver the best services and ensure the comfort of all clients. Such a drive falls in line with the directives and strategy of our government aimed tocater for customers to realise RTA's strategic objective of "Bringing Happiness to People." It also raises customer'ssatisfactionwith the improved services of the RTA. The RTAis keen to adopt the highest international standards of delivering services toindividual and corporate customers,"noted Al Mulla

In conclusion, representatives of companies thanked the Director-General and Chairman of the Board of Executive Directors of the Roads and Transport Authority and members of RTA's Customers Council for organising such gathering, which play a key role in following up the services, provided to clients. They also commended RTA's handlingof suggestions and complaints and reviewing them with utmost objectivity, transparency and accuracy. They added that such a spirit would enhance the partnership between the RTA and the business communityin Dubai.