Oct 29 2017
Al Tayer: Expenditure on Dubai Roads reached US$20b during 2006 – 2016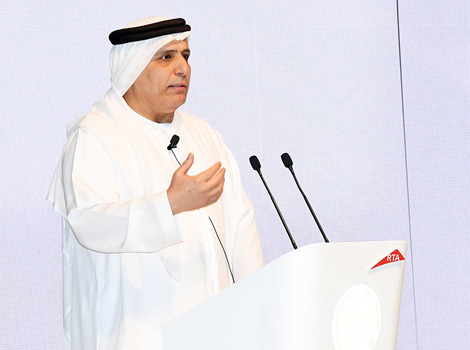 HE Mattar Al Tayer, Director-General and Chairman of the Board of Executive Directors of the Roads and Transport Authority (RTA) stated that the Dubai Government Strategy had attached utmost priority to the development of the infrastructure and transport. "The Dubai Government has pumped billions of dirhams in this sector and the sustained strategic direction has brought in a quantum shift evidenced by ranking the UAE Number One in the quality of roads for four consecutive years in the international competitiveness index of Davos Global Economic Forum. It has also resulted in saving 34 billion Dollars as time and fuel wasted by traffic congestions.
Expenditure on RTA projects during 2006 and 2016 amounted to 20 billion Dollars. Accordingly the rate of mass transit means jumped from 6% in 2006 to 16% in 2016. Mortality rate has also dropped from 22 cases per 100 thousand of population in 2006 to 3.5% per 100 thousand of population by 2016," said Al Tayer in his speech delivered to the opening session of IRF MENA Congress held under the theme: "Smart Infrastructure for Mobility Future in Dubai).

"The conventional infrastructure seen in many countries will not be able to keep pace with the projected urban and demographic growth. Urban population is expected to hit 5 billion persons (60% of world population) by 2030 though cities account for less than 5% of the area of earth. The number of vehicles is expected to increase by 60% over the next decade to reach about two billion vehicles. The ability of cities to accommodate the additional numbers of peoples and vehicles requires upgrading the efficiency and ability of infrastructure and services provided by cities. It needs a transition to smart, innovative and sustainable cities that use the latest technologies of telecommunication and digital information. Such a trend is crucial to simplifying and supporting planning, decision-taking and improving the quality of life. It also increases the efficiency of services, enhances global competitiveness and address the needs of current and upcoming generations.
Smart Cities
"The RTA is a key partner of the smart city initiative launched by HH Sheikh Mohammed bin Rashid Al Maktoum, Vice-President and Prime Minister of the UAE and Ruler of Dubai, four years ago aimed at transforming Dubai into the smartest city in the world. The RTA is spearheading the smart mobility drive and lends support to other key aspects such as the smart economy, smart life, and the smart government. RTA's mobility services are focused on three key drivers: customer centricity, integrated transport, and encouraging the partnership between public and private sectors," said Al Tayer.

He also touched on the challenges encountered by the smart infrastructure improvement in Dubai highlighted by the rapid demographic growth of 7% pa. It is also coupled with the rapid urbanization, inclement weather conditions and multi-cultural ethnicities. Other challenges include global challenges relating to legislations and laws, laws and privacy and safety, maturity point and the endorsement of the smart technological systems.

"To beat these challenges, the RTA has developed a clear model capable of meeting current and future requirements of the smart infrastructure of roads and transportation. It includes RTA's roadmap for the smart city comprising 62 projects and initiatives in the fields of smart infrastructure, sustainable transport, smart vehicles and digital transformation. About 64% of these projects and initiatives have been accomplished covering advanced control centers, autonomous mobility, smart transportation systems, transit-oriented development plans, smart integration of transport systems, and smart infrastructure of roads, services and apps. The RTA has accomplished the construction of several projects including Dubai Metro and Tram, Enterprise Command and Control Center, in addition to several apps and smart services.

Autonomous Mobility
Al Tayer highlighted RTA's efforts in implementing the directives of HH Sheikh Mohammed bin Rashid Al Maktoum, Vice-President and Prime Minister of the UAE and Ruler of Dbai, to convert 25% of total journeys in Dubai into driverless journeys by 2030. "RTA Smart Mobility Strategy steers the transition to the autonomous transport, whereas it is the private sector that leads this trend in several other cities. RTA's strategy covers all transit means whereas other cities focus on a limited number of means. The RTA has accomplished several projects in support of the smart mobility highlighted by: Dubai Metro and smart card and a structure for a standard fare for all public transport means, providing taxi and smart car rental, bikes parking areas at the metro stations. It also includes developing projects aimed encouraging the use of mass transit systems such as the Union Oasis. In the roads infrastructure, the RTA had focused on lighting, parking and pedestrian signals besides providing 174 services vial mobile phones and smart cases.

Smart Roads
"The RTA is currently developing programs, projects and key initiatives aimed at enhancing the infrastructure and the smart services of roads and transport covering improving the smart infrastructure of roads network such that it would cover 60% of main roads in Dubai by 2018/2019. It also includes constructing a new traffic control center that uses latest technologies built on mega information,, artificial intelligence, 3D Print for producing metro sport parts in addition to bus shelters. Initiatives include the internet of things to link assets with a central control systems for monitoring the traffic condition and the remote controlling in addition to the air taxi which has started trial operations lately.

Concluding his speech, A Tayer said: "The success of transition to smart cities require shaping the future, clear and well-defined priorities depending on nationalities, provision of setting out and priorities and identifying risks, resetting priorities, and identifying risks besides developing necessary strategies, and providing instant information and the unreserved adoption modern technologies.