Dubai Ferry

Boarding a Dubai Ferry is one of the best ways to view the city's historical sites and striking coastline. Capture the grace of the city and explore 5 major routes, in a comfortable and fully air-conditioned environment.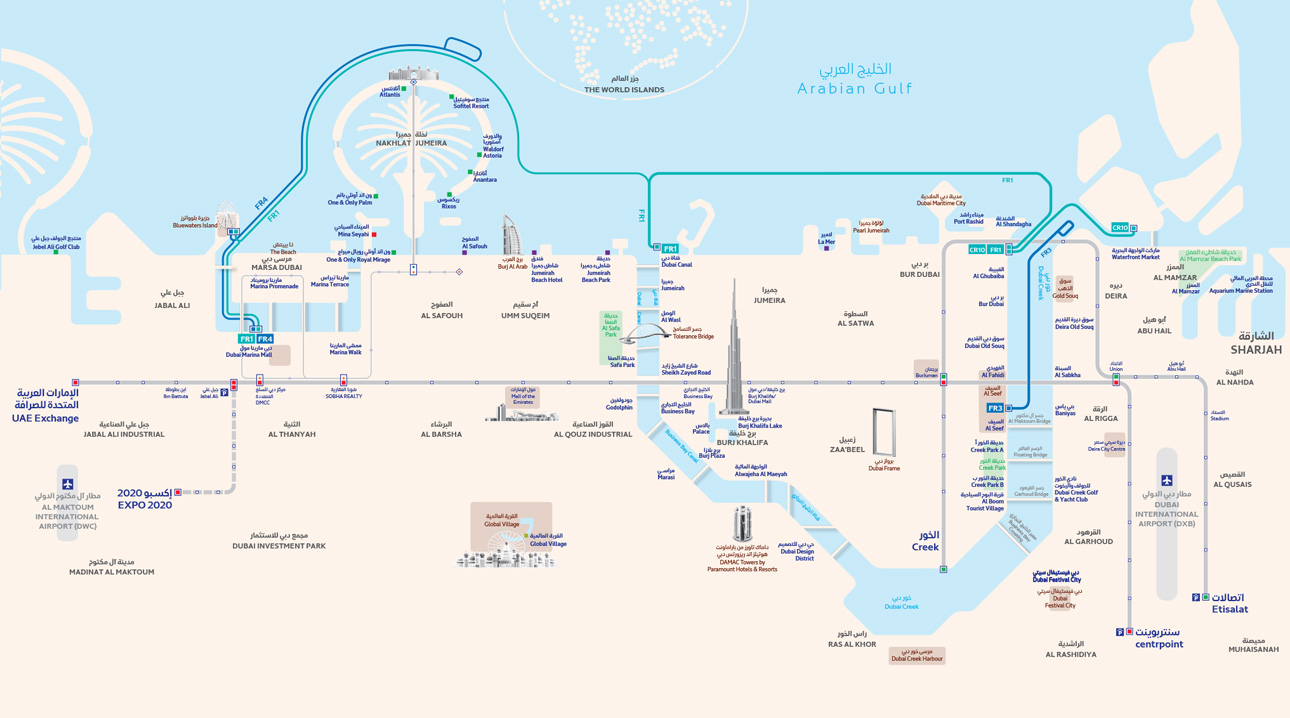 Routes

Departing Time

Duration

Fares

Route 1


Al Ghubaiba Ferry Station – Dubai
Water Canal Station – Dubai Marina
Mall Station and vice versa (FR1)
11:00 am | 1:00 pm | 6:30 pm
1 hour 40 minutes
AED 50 Silver (one way)
AED 70 Gold (one way)
Children 0 – 5 years (free)
Route 2 and 3
Al Ghubaiba Ferry Station –
Jumeirah Beach (FR3)
3:00 pm
and
5:00 pm
1 hour round trip

Gold Class


AED 75 per person. AED 210 for a family package (2 adults and 2 children)

Route 4 and 5


Dubai Marina Mall Ferry Station – Palm Jumeirah – Atlantis The Palm (FR4)

Silver Class


AED 50 per person. AED 140 for a family package (2 adults and 2 children). Children aged 2 – 10 years receive a 50% discount on the single ticket fares, while children under 2 years ride for free.

Route

6

and

7


Al Ghubaiba Marine Station –Aquarium Marine Station (FR5)
Saturday - Thursday

5:00 am - 9:00 am
9:00 am - 4:00 pm
4:00 pm - 8:30 pm

Every 30 Mins
Every 1:30 Hrs
Every 30 Mins
AED 15 Adult Silver one way
AED 25 Adult Gold one way
Free for children under 5 years old and People of Determination

Friday

2:00 pm - 8:45 pm

Every 1 Hr
Timings for Dubai Ferry
Departure time from Dubai Canal Station to:
Timings
Timings
Timings
Dubai Marina Mall Station
11:50 am
01:50 pm
07:20 pm
Al Ghubaiba Station
11:50 am
01:50 pm
07:20 pm
Dubai Canal fares
Purchase tickets by cash or credit card at the ticket office located next to the Dubai Ferry Station.
FR1 - Fares outside Water Canal (Dubai Canal to Al Ghubaiba or Dubai Marina) in AED
Silver Ticket / Class
25
Golden Ticket / Class
35
Children under 5 years
Free transfer
Plan your Journey
Your travel currency
Your public transport currency. One card for all public transport means that makes it easy and convenient to get out and about in Dubai.