Feb 02 2021
RTA employs creative skills of People of Determination to support Clothes for Good initiative
(Al Mehrizi: An online platform is set to register donors of pre-used uniforms)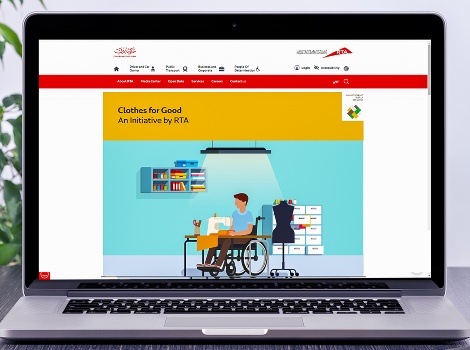 The Roads and Transport Authority (RTA) has broadened the scope of participation in Clothes for Good (Kiswat Khair) initiative by designating the forthcoming edition of the campaign (in the first quarter of 2021) to engaging People of Determination. The intention is to capitalise on their creative skills in reconditioning pre-used uniforms donated by public and private entities and turning them into wearable attire .

"As we are aware of the creativity of the People of Determination, we are coordinating with the concerned centres of People of Determination across the nation to benefit from the potentials of this category in supporting Clothes for Good initiative. We are confident that the craftsmanship of these individuals can be employed in recycling and retrofitting the donated uniforms and turning them into wearable attire for underprivileged individuals in different countries," said Rowdah Al Mehrizi, Director of Marketing and Corporate Communication, Corporate Administrative Support Services Sector, RTA
"Events this year will take place individually inside the centres of People of Determination rather than staging group activities, as was the case in the past years. We aim to protect the People of Determination from the risks of Covid-19 and maintain the physical distancing measures. Designating this round of Clothes for Good initiative stems from our commitment to engage People of Determination in our initiatives and integrate them in our community events, which will also boost their morale. Centres will be given one month to redesign the uniforms and any other reusable products. A specialized company will be tasked to disinfect the clothing pre and after the redesigning process, then forward them to RTA for onward despatch to Dar Al Ber Society, which will distribute them to the needy categories abroad," explained Al Mehrizi.

"An online platform (rta.ae/clothesforgood) has been set up for interested donors to register for donating their pre-used uniforms. These entities need to sign up through the platform and state the date on which their donations will be ready for collection by the concerned company, which will fit them in RTA's programme. The platform has a section for FAQs, a brief account about the initiative since launched in March 2018 showing the number of clothes recycled, overseas beneficiaries, volunteers supporting the initiative, and the public and private entities that took part in the initiative," concluded Al Mehrizi.