Mar 18 2019
Rolling out diverse activities to mark Happiness Week 2019
(Al-Rida: 100 free trips to tourists arriving through Dubai Int'l Airport)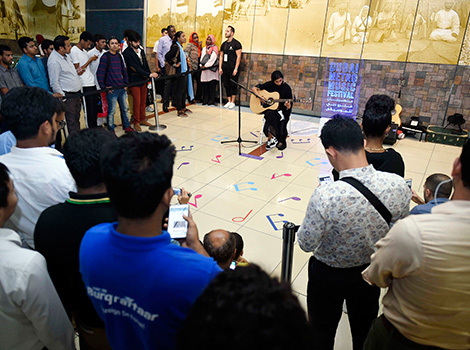 Dubai's Roads and Transport Authority (RTA) has launched an array of entertaining activities as part of its participation in the 3rd Happiness Week (17-22 March 2019). Events included contests, tours, surprises and music festivities for both employees and clients of RTA.

"Events included 'Search for Happiness Icons' contest aimed at encouraging people to use public transport means and search for happiness icons and win valuable prizes. The 'Free Ride' initiative offered 100 free trips on Tesla vehicles for tourists arriving through Dubai International Airport on March 20 only. 'On Your Way to Happiness' was another surprise for RTA employees offering them valuable prizes on raffle draws during the Happiness Week including purchase vouchers, electronic devices, smartphones and others," said Yousef Al-Rida, CEO RTA's of Corporate Administrative Support Services Sector.

"Events for both employees and customers included a trip to Wadi Hub, Hatta on March 22nd; 8 free activities for visitors, and gifts. Among the key events is the Dubai Metro Music Festival (17-23 March) launched in collaboration with Brand Dubai the creative arm of Government of Dubai Media Office in five Metro Stations (Burjuman, Al Rigga, Union, DMCC, and Mall of the Emirates) involving the participation of 25 international musicians.

"The Happiness Week 2019 coincides with the Year of Tolerance declared by the Government. As such, RTA is endeavouring to encapsulate the happiness strategy in the form of initiatives and services rendered to employees and clients. It is seeking to nurture a happy community living in a country of tolerance, respect and the coexistence of cultures & religions, especially as the UAE is home to almost all nationalities in the world," added Al-Rida.

It is noteworthy that the UAE ranked first amongst Arab countries and 20th worldwide according to the World Happiness Report 2018 of The Earth Institute, Columbia University, and the UN Sustainable Development Solutions Network, released last year in Rome, Italy.