07 Apr 2021
A roadmap is set for implementing corporate agility across RTA in 2021-2022
(Al Tayer: RTA's corporate agility approach assisted delivery of mega projects)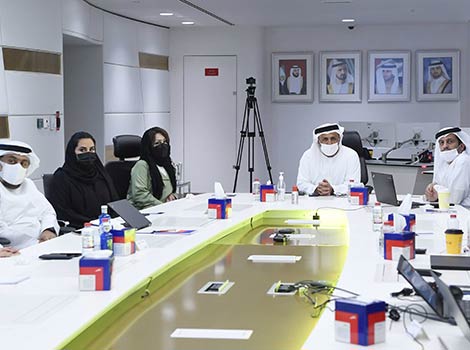 His Excellency Mattar Mohammed Al Tayer, Director-General, Chairman of the Board of Executive Directors of the Roads and Transport Authority (RTA) stated that scaling up the corporate agility of public entities and organisations had become an urgent priority. He noted that developing an effective corporate agility approach had become an essential ingredient for coping with future trends, continuity of business, sustainability of growth and performance excellence. Al Tayer stressed that the accelerated changes brought by the outbreak of the Covid-19 pandemic forced governments and organisations to adopt an agile management approach to ensure a seamless flow of business operations during emergencies.
Al Tayer made these remarks at the opening session of RTA's Agility Scaleup Innovation Lab held over two days in the presence of CEOs and directors of RTA.
"RTA embraced the journey to be agile since its inception in 2005 with a clear vision as well as a flexible-dynamic organization structure design based on a global corporate model adopted by global companies such as General Electric. RTA's organisation model is further enhanced by a network of cross-functional teams and committees, to boost collaboration and enhance quality," commented Al Tayer.
"Embracing the corporate agility approach had enabled RTA to deliver mega and complex projects on time such as the Dubai Metro Project, which was opened as promised on 09/09/2009, and the Dubai Water Canal Project, which was completed despite all the complex challenges; like the need for the Canal to pass through Sheikh Zayed Road, and other main roads, in an area with established infrastructure and massive existing network of utility lines. Projects delivered also include Route 2020 for the extension of the Dubai Metro Red Line to the site of Expo. The delivery of these projects contributed to the rapid development of Dubai's infrastructure, especially those related to the economy, tourism, as well as land and property developments," explained Al Tayer.

Beating Challenges
"Last year, RTA managed to overcome challenges of the Covid-19 pandemic and continued the delivery of semi-normal customers services, thanks to the early implementation of the directives of His Highness Sheikh Mohammed bin Rashid Al Maktoum, Vice-President, Prime Minister of the UAE, Ruler of Dubai, to transform Dubai into the smartest city in the world. RTA succeeded in transforming all customer services into smart services characterised by innovative design and accessibility, which ensured a smooth migration to the 'Remote Work' model. Furthermore, recent statistics indicate that our customers are switching in large numbers to our smart channels. About half a billion transactions were processed through RTA's smart channels in 2020, which is 40% higher than the number recorded in 2019. Likewise, transactions processed through the chatbot (Mahboub) increased by 100% and the happiness index of digital services shot to 90%," he elaborated.
"RTA is keen to continue with the development drive and keep pace with the continuous updates of local and federal government programmes, rapid changes in technology and transport modes as well as evolving customer needs. Last year, we created a Corporate Agility Transformation Office (CATO) to nurture the best global practices for the implementation of corporate agility in our services and operations. CATO will also foster the development of creative and supportive skills for launching quality services and projects that address the present and future challenges and cement RTA's regional and global pioneering role," commented Al Tayer.

Focus Areas
"RTA's efforts to spread corporate agility practices are focused on accelerating its corporate abilities towards its new vision of "the world leader in seamless & sustainable mobility". We have to achieve customers centricity and provide a positive end-to-end customer experience. We also need to develop our abilities to detect and adapt to new conditions and ensure optimal utilisation of our available technical, financial, and human resources as well as assets for our financial sustainability. We also need to empower and support the teams and build their confidence to provide a distinct work environment. We also need to coach effective communication, creativity, research and experimentation, to continuously develop and improve, besides simplifying work procedures to increase productivity and the speed of delivery," added Al Tayer.

5 Pillars
RTA's Agility Scaleup Innovation Lab held several discussion sessions that reviewed a raft of local and international experiments. Ms Gemma D'Auria, Regional Manager of McKinsey & Company, made a presentation about the best practices of corporate agility. The Lab focused on five key pillars namely Seamless transport for commuters, Vehicle owners experience, digital transformation & artificial intelligence, financial sustainability, and innovation & the future of mobility. Discussions identified the priorities of each pillar, and accordingly developed and approved a roadmap for full implementation of corporate agility practices in 2021-2022.