Mar 19 2019
Offering vacancies at the 19th Careers UAE
(Mansour Al Falasi: Tamkeen and Edaad support Emiratisation drive )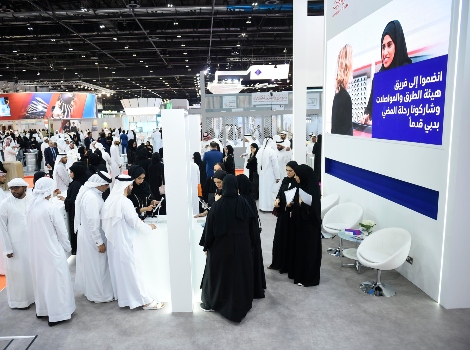 Roads and Transport Authority (RTA) took part in the 19th edition of Careers UAE which kicked off yesterday Sunday (19th March 2019) at the Dubai World Trade Center. The job fair attracted wide participation of various entities and companies in the UAE. Through the event, RTA is seeking to recruit young citizens in support of Emiratisation drive.

"RTA keenly participates annually in support of its Emiratisation strategy, especially as the event attracts considerable numbers of fresh Emirati graduates as well as senior Emirati professionals in various fields," said Mansour Al-Falasi, Director of Human Resources & Development at RTA's Corporate Administrative Support Services Sector.

At its stand, RTA has on offer a wide range of posts in engineering, financial, investment, internal audit, administration, information technology, strategic planning as well as quality, health, safety and environment fields. Respective directors conduct instant interviews of the applicants; which will accelerate the recruitment process thanks to the advanced technologies via Dubai Careers Platform.

RTA always keeps pace with the ambitions of leaders in supporting the Emiratisation process considering it a permanent strategy. Initiatives taken in this regard included Tamkeen with RTA; a six-month programme aimed to train Emiratis who could not find jobs for a year since graduation. They are being trained on professional skills and groomed for the job market. So far, two batches graduated in the presence of RTA's Director General and Chairman of the Board of Executive Directors, and a large number of them have taken up jobs in RTA.

"There is also Edaad (Grooming) programme, which qualifies and trains several Emirati graduates and offers them placements at RTA. This two-year program ensures the deployment of well-trained Emiratis capable of contributing to sustainable development. The program has extra features such as specialist practical training, along with rewards and incentives offered to inductees with superior talents," noted Al Falasi.

In the same context, Al Falasi reported that Emiratization of leading posts in RTA amounted to 95% and the overall Emiratization of jobs rate had clocked 87%. "RTA is always keen on charting out strategic plans for attracting Emiratis in a variety of fields through participation in career shows or other recruitment sources as part of its commitment to the directives of the Government in this regard," he added.