Jul 21 2019
Installing 100 solar-powered nol recharging machines
(Al Awadi: Machines are distributed at bus stations and populated spots)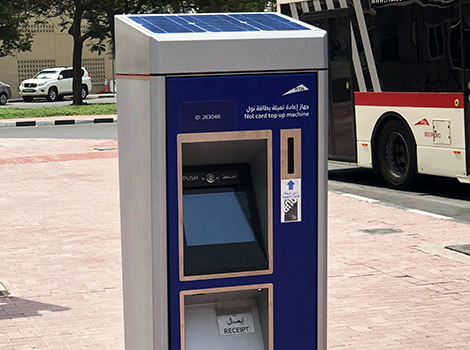 Dubai's Roads and Transport Authority (RTA) has completed the installation of 100 nol top-up machines powered by solar energy in several parts of Dubai. The step is part of RTA's efforts to expand the use of renewable energy in all services and projects in support of the government drive towards a green and sustainable economy.

"The installation of 100 solar-powered nol card recharging machines across Dubai is part of RTA's strategy to provide alternative renewable energy sources. It will help in realizing RTA's objective of reducing power consumption in accordance with Dubai Supreme Council of Energy strategy," said Khalid Al Awadi, Director of Transportation Systems at RTA's Public Transport Agency.

"The new machines have been installed at bus stations and frequently busy spots like Al Qusais, International City, Mall of the Emirates, Sahara Centre. The step increases the number of solar-powered nol card recharging machines from 78 to 178 machines.

"The installation of these systems will shorten the time taken in nol card top-ups. Moreover, clients can use their credit cards to top-up nol cards online through RTA's website and activate the credit through the existing machines.

"1,025,294 clients have used nol card recharging machines during the first half of this year. nol card has become one of the digital tools for achieving RTA's transformation strategy," confirmed Al Awadi.