19 Jul 2022
Dubai's RTA briefs Sharjah's RTA on best marine transport practices
(Dubai's Roads and Transport Authority (RTA) has briefed Sharjah Roads and Transport Authority (SRTA) on the top international practices of marine transport. The briefing focused on designing marine stations, the infrastructure of marine transport and supervising the operation of traditional Abras in Dubai. )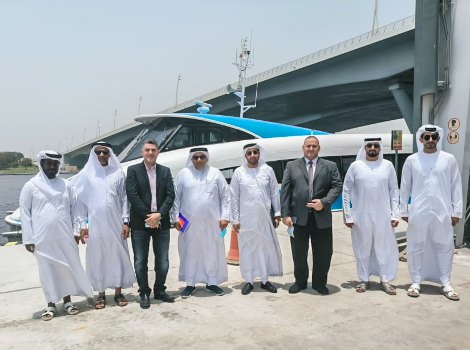 Dubai's Roads and Transport Authority (RTA) has briefed Sharjah Roads and Transport Authority (SRTA) on the top international practices of marine transport. The briefing focused on designing marine stations, the infrastructure of marine transport and supervising the operation of traditional Abras in Dubai.

The visit was part of SRTA's strategy to exchange international expertise in relevant fields and familiarise with the latest development in the global marine transport industry, especially as Dubai's RTA has gone far and wide in this business and developed a solid international experience in public transport fields.

"RTA is always keen to share its successful experiences in public transport with government entities in the UAE. Thanks to the wealth of knowledge it has developed, RTA has carved a niche for itself among the top international entities of the industry in a record time, thanks to the implementation of ambitious plans and compliance with international standards. Such standing is also credited to the adoption of effective strategies and the use of the latest technologies," said Mohammed Abu Bakr Al Hashmi, Director of Marine Transport, Public Transport Agency, RTA.

The visiting delegation reviewed the organisational chart of the Public Transport Agency and the key roles of the Marine Transport Department, which are summarised in: planning and developing marine transport, managing maintenance and docking stations, overseeing the operation of traditional Abras, operating and maintaining marine transit modes, and designing and implementing marine transport projects.

In turn, the members of the visiting delegation expressed their pleasure with this visit and praised the achievements and initiatives of Dubai the Roads and Transport Authority in the field of infrastructure, mass transportation and other achievements represented in smart and electronic services that delighted customers from different segments of society. They also affirmed their determination to continue organizing visits to benefit from the experiences, expertise, achievements and initiatives of the Dubai Roads and Transport Authority.

It is noteworthy that RTA has 55 marine transport means connecting 53 marine stations over a network spanning 86 km. The network has completed 1.7 million accident-free operational hours and served more than 11 million riders in 2021. The network has a fleet of 148 traditional Abras.

Between 2015 and 2021, the Marine Transport Department scooped multiple international awards and certificates in a variety of categories such as the Ideas America Award, the conformity of marine transport means to international standards, the conformity of the Maritime Transport Department to the World Safety Organization certificate, the International Safety Management (ISM) Certificate Code of the Dubai Ferry, the International Safety Certificate for the Dubai Ferry, the programme for training heritage Abra operators, and participating in the British Ideas Awards; one of the most reputed global safety awards.