Mar 10 2019
Deploying field mobile command vehicle in support of crises & emergency operations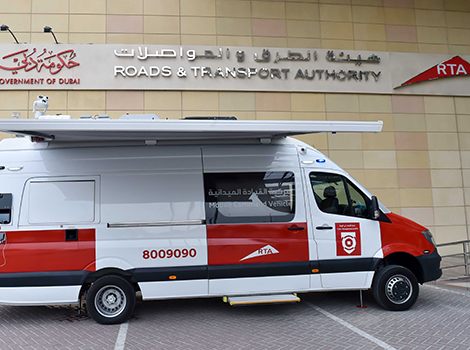 Dubai Roads & Transport Authority (RTA) has inaugurated the field command vehicle in support of its Crises Management Team. The step is part of RTA's strategy to better equip the crises and emergencies operations on site and further enhance RTA's vision of Safe and Smooth Transport for All.

"The aim of the vehicle, deployed during main events and activities held recently, is to overcome the biggest challenge facing RTA's Crises Management Team and Emergency Management Team in establishing field command at the site of emergencies or incidents. As such, it establishes a link with RTA's Enterprise Command and Control Center (EC3), especially in areas with no CCTV coverage. It also enables communicating instant information from and to EC3, and as such information will be processed at site and the latest developments of the incident will be instantly communicated," said Nasser Abu Shehab, CEO of RTA's Strategy and Corporate Governance Sector.

This is a crucial development for the Crises Management Team, as it enables the team to assess the present situation, and take appropriate decisions towards mobilising the concerned technical teams and logistics to reduce negative implications of emergencies and crises.

"To ensure the specifications of the command vehicle are customised to the needs of RTA's Crisis Management, the concerned team and the Crises Management and Business Continuity Section conducted benchmarks with several bodies worldwide to identify the best international practices. It had also visited several exhibitions to review the latest technologies and trends of the industry. Based on the findings of these studies and requisites of the Crises Management Team and Emergency Management teams, the Field Command Vehicle has been designed in line with RTA's standards.

"The vehicle hosts command rooms of superb design to monitor, plan and manage the continuity of RTA's services. It has satellite link with the EC3 as well as devices for internal and external communication ensuring that the EC3 is fed with instant audiovisual information to assist with the management of emergencies and crises," added Bu Shehab.