Nov 07 2018
Cooperation with Swedish Embassy in traffic safety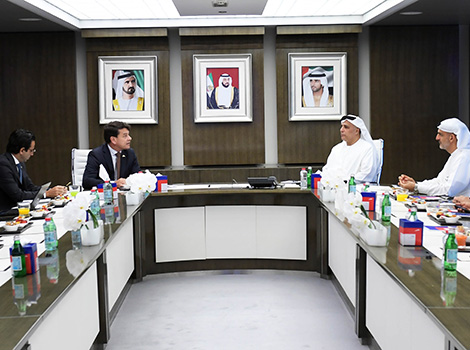 HE Mattar Al Tayer, Director-General and Chairman of the Board of Executive Directors of Roads and Transport Authority (RTA) received HE Henrik Landerholm, Ambassador of the Kingdom of Sweden to the United Arab Emirates, and his accompanying delegation including representatives of companies concerned with traffic safety, auto manufacturers and vehicles safety systems.

The meeting intended to strengthen cooperation, share expertise in traffic safety and utilize roads & vehicles smart technologies, given that Sweden's roads are the safest worldwide.

Al Tayer welcomed the Swedish Ambassador and his accompanying delegation, and stressed on the importance of traffic safety, it being a main part of the core pillars of RTA's business. The civic body strives to enforce the highest traffic safety measures and reduce road fatalities, injuries and accidents.

RTA, along with Dubai Police GHQ have recently approved guidelines of a five-year traffic safety strategy, which includes four main themes: Monitoring & Traffic Enforcement, Roads & Vehicles Engineering, Traffic Awareness, and Systems & Management Development. RTA has also sanctioned the Strategic Performance Indicators and Dubai's Traffic Safety Strategy Targets for 2017-2021.

"The cooperation and coordination between RTA, Dubai Police, Ministry of Interior and driving institutes has yielded a reduction in traffic mortality rate in the emirate of Dubai from 21.7 cases per 100,000 population in 2005 to approximately 2.5 cases per 100,000 population in 2017, a remarkable achievement according to international safety standards," added Al Tayer.

The visiting delegation reviewed the Swedish government's plan to reduce the number of road-accident fatalities to zero by 2020 through upgrading roads, analyzing causes of accidents, and monitoring compliance with speed limits, setting speed limits on roads and preventing driving under the influence of alcohol.

Attendees of the meeting included Nasser Abu Shehab, CEO of Strategy & Corporate Governance Sector, Ahmed Bahrozyan, CEO of Public Transport Agency, Abdul Aziz Al Falahi, CEO of Corporate Technology Support Services Sector, and a host of directors.