Dec 15 2020
Al Tayer holds virtual meeting with Danish Consul in Dubai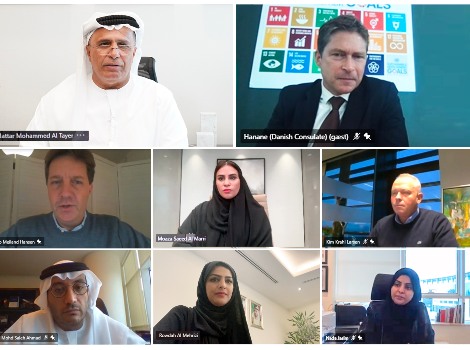 His Excellency Mattar Mohammed Al Tayer, Director-General, Chairman of the Board of Executive Directors of the Roads and Transport Authority (RTA) has held a virtual meeting with Jens Alsbirk, Consul General of the Kingdom of Denmark in Dubai. The meeting discussed means of boosting cooperation and exchanging expertise between RTA and its counterpart in Denmark in the fields of street lighting and environmental sustainability. The two parties also discussed inviting Danish companies to take part in bids for RTA's projects in future.

Al Tayer briefed the Danish diplomat about key projects RTA has accomplished recently to facilitate the use and movement of public transport such as Route 2020 of Dubai Metro, and the development of 17 bus stops/stations. Al Tayer pointed out that RTA procured 614 buses compatible with Euro 6 low-carbon emission standards, and highlighted Dubai Intelligent Traffic Systems Centre, one of the biggest and most sophisticated traffic control centres in the world in the use of smart technologies. He also touched on Al-Shindagha Corridor Project, which is currently underway, and the expanded use of big data to improve mobility and customers experience in Dubai.

Al Tayer recapped RTA's efforts to enhance environmental safety, considering it an integral part of RTA's operations towards realising its vision to become 'The world leader in seamless & sustainable mobility'. These efforts are illustrated by broadening the use of solar power, continuing tests of electric buses, beefing-up taxi fleet powered by electricity or hydrogen cells, installing power-saving streetlights, and widening the use of e-services.

The Danish Consul praised the sweeping development seen by Dubai in a very short time, rendering it a hub for investors and tourists. He expressed hope for more cooperation and exchange of expertise between Danish entities and RTA in various fields of relevance.