Jul 21 2015
The online booking of Water Taxi service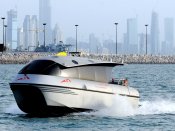 The online booking of Water Taxi service
RTA has launched the online booking of the Water Taxi service. It is now possible for Water Taxi riders to log on to RTA's portal at any time, follow simple & short steps to book rides on the Water Taxi at the time they wish by just a click of a button.
 
This service is particularly important during events hosted by individuals or organizations such as hotels and businesses; especially tour operators offering water cruises during conferences, exhibitions and carnivals. At the top of these festivities is the Dubai Shopping Festival, Gitex, The Big 5 Expo, and other events that attract visitors, tourists, business leaders and investors from all corners of the globe. The new service is intended to streamline the Water Taxi booking experience for the public as part of RTA's efforts to offer superb marine transit services in Dubai.
 
Steps of booking the Water Taxi online via RTA's website are very short & simple where the user starts with selecting the type of journey; whether commuting or chartering. In case of opting for Commuting, the user is then prompted to select the Pickup Point and Destination; which will be accompanied by the display of a map showing the route, along with the timing & fare of the journey. Services will be run every 10 minutes starting from 10 am up to 9 pm, thus the rider will be able to figure out the availability of the Water Taxi along with the estimated arrival time.