News/Events
RTA starts construction of Dubai Cycling Track at Seih Assalam, Nad Al Sheba
15/04/2015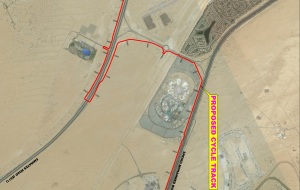 The project is intended to connect with the existing cycle path at Seih Assalam running beside Al Qudra Road in the direction of Emirates Road, and further to the Sheikh Mohammed bin Zayed Road up to Nad Al Sheba.
Engineer Maitha bin Udai, CEO of RTA Traffic & Roads Agency, said: "The Cycling Tracks project had been initiated to cater to the needs of the public identified in a comprehensive study commissioned by the RTA. The plan set envisages the optimal utilization of cycling paths constructed within the right-of-way, and adopting specific criteria for separating them from vehicular movement through using internationally recognized traffic signs.
"The project epitomizes several strategic goals of the RTA and its plan aimed at providing suitable alternatives to lure Dubai residents & tourists to practice cycling as a hobby. The RTA has constructed more than 150 km-long cycling paths across the Emirate, including a 25 km cycling path at Jumeirah Road, and an 11 km cycling path at the center of Bur Dubai, in addition to a 115 km cycling path at Seih Assalam and Al Qudra Road comprising 10 rest points, facilities for hiring bikes & accessories, and a fully-fledged medical clinic," explained bin Udai.
The Executive Director of RTA Traffic & Roads Agency also noted that there were several other proposed cycling paths which would be undertaken shortly by the RTA in a number of residential areas linking public attractions (such as public parks, malls) with collector roads in areas covered by cycling paths.