News/Events
Phase II of Traffic diversions at Al Wasl Road completed
17/05/2015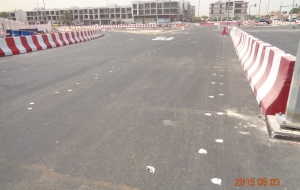 Engineer Maitha bin Udai, CEO of RTA Traffic and Roads Agency, said: "Works are continuing in the construction of the Dubai Water Canal project according to the timetable set, and completion rate in the project has so far touched 33%. Works include opening a main traffic diversion on Al Wasl Road with the same number of lanes of the existing road, besides widening Al Bili Road to make it a dual carriageway to divert traffic thereto instead of Al Athar Road which will be partially closed nearby Al Wasl Road. A service road will be provided to serve the local traffic through Al Baqqara Road. Accordingly, the traffic signal at the junction of Al Wasl and Al Athar Roads will be abolished and replaced by a new traffic signal at the intersection of Al Wasl and Al Bili Roads.
"Arrangements are in hand for constructing alternative roads to Al Hadeeqa Road to enable the smooth construction of bridges on Al Hadeeqa Road. The diversion will be fitted with all traffic safety means such as signals, directional signs with cautionary lights, street lights and concrete barriers to enhance the protection and separate the traffic movement from project works areas," said Maitha.
Commenting on the works of that detour, Maitha said: "Works are progressing in constructing bridges on Al Wasl Road in parallel with works on utility lines. Works have already been completed in laying utility ducts underneath the course of the proposed Canal on both sides of Al Wasl Road, along with the protection and shifting of utility lines underneath the traffic diversion. In parallel with these diversions, construction works of bridges on Jumeirah Road are set to start, and work is currently underway in preparing layouts of traffic diversions of Jumeirah Road which are expected to start next July."
It is noteworthy that works in the Water Canal project are divided into three phases; Phase I includes the construction of bridges above the water canal on the Sheikh Zayed Road comprising eight lanes in each direction. Such bridges rise eight meters above the water level, thus enabling free navigation around-the-clock in addition to undertaking several improvements on main roads intercepting the Canal.
Phase II includes the construction of bridges over the Canal on the Jumeirah and Al Wasl Roads comprising three lanes in each direction on the Jumeirah Road, and two lanes in each direction on Al Wasl Road, in addition to a flyover from Al Wasl Road to Al Hadeeqa Road in the direction of the Sheikh Zayed Road.
Phase III comprises the drilling of a Canal stretching 3.2 km, filling an artificial island towards the seaside, building a marine barrier around the Island to pave the way for laying a sand beach, building a marina and dock station for the Water Bus, and constructing three unique footbridges.