Projects
Contract of bridge from Al Khail Rd to Financial Center Rd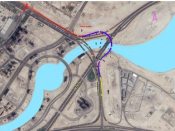 Planned Date: to be completed in the first quarter of 2017
Project Cost: AED120 million
Project Description:
RTA, in coordination with Emaar Properties, has endorsed the awarding of a contract of a bridge project extending from Al Khail Road to the Financial Center Road.
The existing road would ensure a seamless traffic movement from Dubai-Al Ain Road to Al Khail Road along the upper deck of the Financial Center Road. The project would improve the traffic flow along the Financial Center Rd and at-grade intersections by reducing the density of traffic at junctions leading to Mohammed bin Rashid Boulevard and easing the pressure on the existing roads network.
The project comprises of the construction of a two-lane bridge linking Al Khail Road with the Financial Center Road over a sector extending 920 meters in length with a width ranging from 11 to 15 meters. The bridge would be built on individual piers and pass across the Dubai Water Canal. The project also covers lighting and infrastructural works including the diversion of impacted utility lines such as water, electricity, irrigation, sewage and telecommunication lines