Projects
Transforming six metro stations into art galleries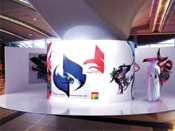 Planned Date: 2014 - 2015
Project Cost: 184 Million Dirhams
Project Description:
The project comprises transforming six stations of Dubai Metro into galleries exhibiting artistic, cultural and creative works. This unique initiative aims at creating permanent museums & art galleries to showcase artistic and cultural works and innovations rendering them an integral part of the lifestyle and mobility experience in Dubai. On the other hand, decorating bridges & underpasses in Dubai is a part of this project in a bid to add artistic touches to the streets of the Emirate.
Each metro station features special theme and pattern of gallery, Accordingly Burjuman Station is transformed into music and art gallery, Emirates Towers Station is transformed into Islamic decorations & manuscripts, while Financial Center themes Islamic Numismatics (coins) Gallery, Burj Khalifa / Dubai Mall Station is transformed into an e-library, and the Business Bay Station is transformed into a photo gallery. Additionally, Noor Bank Station plays host to a Museum of Contemporary Art offering a unique & comprehensive look into modern art.
The museums are equipped with the latest technologies as well as smart & interactive applications in line with the Smart Dubai initiative, in addition to a variety of artistic performances including music synchronized with the movement of the metro, light show on the roofs of stations, 3-D shows at stations, interactive screens via smartphones in all stations, and wrapping metro carriages using e-paper technology.