News/Events
RTA decorates Burjuman Metro Station with the inaugural Safety Award for achieving highest safety standards
28/07/2015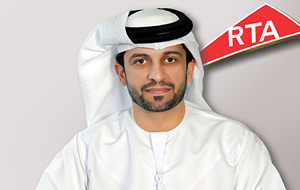 The Roads and Transport Authority (RTA) has decorated Burjuman Metro Station with the first edition of the quarterly Safety Award in recognition of the station's team in providing the highest safety standards to visitors of the station whose number is continuously on the rise.
The CEO of RTA Rail Agency Abdullah Yousef Al Ali, explained that the Safety Award was accorded to Burjuman Metro Station in recognition of the efforts of the work team to maintain security in the station where no incidence was reported as regards the use of escalators, people movers, lack of lift-door opening, or sliding due to the wet floor. Such a clean record indicated that the work team had taken all preventive measures to protect passengers and users of the station, offering them smooth and safe mobility.
"The Rail Agency is always seeking to foster the culture of safety to minimize the rate of accidence occurrence in metro stations, and accordingly realize RTA's vision of providing Safe and Smooth Transport for All, as well as the initiatives and events contributing to the achievement of one our strategic goals: Safety and Environmental Sustainability. This has prompted the introduction of this Award by the Rail Safety Committee at the Agency; which comprises members from the metro operator Serco Company and several members from the concerned departments at the Agency and the RTA. The Award will be presented on quarterly basis to the best metro station on the light of two key parameters: Recording the least number of accidents, and the team had done the best efforts in diffusing the culture of safety in the station," added Al Ali.