News/Events
RTA briefs delegation of Etihad Rail about safe rail operation practices
19/07/2015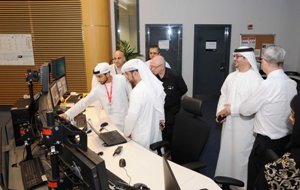 The Roads and Transport Authority (RTA) has received a delegation from Etihad Rail, Abu Dhabi which to brief them about the practices of its Rail Agency in managing safety & environmental aspects of the Dubai Metro and the Dubai Tram projects. The delegation was keen to review the best practices of the Control Room & the Maintenance Workshop of the Dubai Metro, as well as the processes adopted at the depot of Dubai Metro at Rashidiya, and the Depot of Dubai Tram at Al Suffouh. The delegation was also briefed about the extension of the Red Line of the metro to the site of Expo 2020 (Route 2020 Project), and its relevance to Etihad Rail.
"The RTA is always seeking to communicate with various specialist rail entities locally or abroad to share knowledge & expertise about rail industry, and brief them about safety & environmental management practices adopted by the Rail Agency in respect of the Dubai Metro and the Dubai Tram projects," said Abdullah Yousef Al Ali, CEO of RTA Rail Agency.
During its visit to RTA Head Office, the delegation reviewed the preventive measures adopted by the Dubai Metro and the Dubai Tram along with the role of Rail Safety Committee in implementing the best rail safety standards, and following-up safety assurance plans to ensure their compatibility with RTA's strategic objective of ensuring safety & environmental sustainability. Visitors were also acquainted with the efforts made to keep pace with the innovative techniques as well as the best global practices & standards set for boosting occupational health & safety, and reducing accidents & fatalities.
The delegation was escorted in a tour to the Operations Control Center at Rashidiya Depot, Dubai Metro, where they were briefed about the systems used in monitoring the rolling stock, electric current powering the metro, and early faults detection & fixing process to ensure efficient & safe operation. They were also familiarized with the operation of the CCTV system providing feed of surveillance cameras installed at metro stations, and procedures adopted in tackling various incidents or occurrences. The delegation also visited Al Suffouh Depot of the Dubai Tram to know more about safety procedures put in place to ensure safe tram operation.
At the end of the visit, the delegation of Etihad Rail thanked the RTA for availing the opportunity to benefit from its successful operational practices of the Dubai Metro and Dubai Tram along with preventive measures in place to curb accidents, reduce negative impacts and improve the safety & service level for users. They extended an invitation to the RTA to visit the premises of Etihad Rail at Abu Dhabi during the 4th quarter of this year to share expertise of Etihad Rail in this regard.