News/Events
RTA imposes fines to protect privacy of women's metro compartment from March 2015
06/03/2015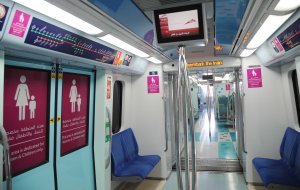 The step is part of RTA's endeavours to maintain privacy & comfort of riders onboard this designated metro cabin, and respect the norms and traditions of the community.
Mohammed Al Mudharreb, Director of Rail Operation of RTA's Rail Agency said: "The RTA always seeks to carry out initiatives that contribute to addressing the needs in addition to the wishes of the public. Expanding the Women & Children Cabin has prompted in reply to the rising numbers of riders of this compartment over the past years. This has warranted an expansion of this cabin permanently as of Feb 15th. A campaign has therefore commenced to educate the riders about this new feature. This feature was previously restricted to the peak times only on a trial base. The newly added space to the women and children cabin has doubled the previous area designated for them comprising 15 seats and 70 standing riders.
"The Red and Green lines of the Dubai Metro are witnessing huge demand from various community segments as well as visitors who are keen to use it as a prime means of transport linking them with the main business, residential and entertainment areas. Thus it was imperative for us to look into possible ways & means of realizing the satisfaction of our customers, particularly women and children in order to offer them privacy during their daily mobility in the Emirate through expanding the area allocated to them," he continued.
"All directional signage at the metro station have been replaced and all relevant information of the women & children cabin is being provided such that they could be readily distinguished. The move is part of efforts to realize the strategic goals of the RTA in delivering best-in-class services, comfort and happiness to community members," concluded the Director of Rail Operation at RTA's Rail Agency.