News/Events
Dubai Metro lifts 14m riders and Dubai Tram serves 301k riders last Jan 2015
15/02/2015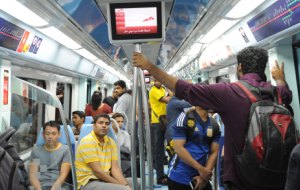 Mohammed Al Mudharreb, Director of Rail Operation at the RTA, said: "Last month saw a significant increase in the number of riders of the Dubai Metro; which is indicative of the fact that RTA's plan to augment the ridership of mass transit means is heading in the right direction. People have started to grasp the benefits of using public transport systems including the peace of mind and hassle-free mobility as well as the reduced expenses on fuel & vehicle maintenance.
"The Red Line of the Dubai Metro has attracted last January 9,468,963 riders where Deira City Center Station topped the list by serving as much as 641,663 riders, followed by Burj Khalifa – Dubai Mall Station which attracted 629,861 riders. The Green Line of the Metro clocked a ridership of 5,356,607 riders whereas Al Fahidi Station was on top of the list serving about 593,850 riders, ranking ahead of Baniyas Station which had a ridership of 562,627 riders," explained Al Mudharreb
"Last January, the Dubai Tram was used by 301,299 riders and the Dubai Marina Station was the busiest in the tram network serving about 77,807 riders, followed by JLT Station which was used by 38,230 riders.
"These indicators reflect that the RTA is moving towards its strategic objective of raising the proportion of trips made by public transport means. This noticeable increase manifests the success of the RTA in supporting the development drive witnessed by the Emirate of Dubai under our prudent leadership. It does also contribute to reviving the economy, enhancing tourism and providing safe & smooth transport; which encourages the mobility and increases the competitiveness of Dubai in staging international events such as conventions, sports events etc., besides conserving the environment through minimizing pollution generated by vehicles," conclude the Director of RTA Rail Operation.