News/Events
44m riders use Metro, 943 thousand riders use Tram in 1st Qtr. 2015
04/05/2015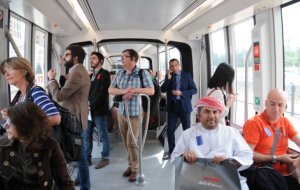 Statistics indicate that 44,371,860 riders have used the metro and 943,982 riders have used the tram in Dubai during the first three months of this year.
"The soaring ridership of both the metro and tram during the first quarter of this year is a strong indicator that these two transit means are attracting the attention of residents and visitors who make them their prime transit modes within the Emirate of Dubai. Both means offer a fancy traveling experience to various destinations including business and residential districts of Dubai," said Abdullah Yousef Al Ali, CEO of RTA Rail Agency.
"We, in the RTA, are endeavouring to roll out a host of initiatives and service improvements contributing to peoples happiness besides enticing the public to use mass transit means in general and the metro and tram in particular.
"The number of riders traveling through the Red Line of Dubai Metro during the first quarter of this year reached 28,251,036 riders, whereas the number of riders transiting through the Green Line was 16,120,824 riders. Deira City Center Station topped stations on the Red Line recording 1,830,912 riders, followed by Union Station in the second position recording 1,800,149 riders, and Rigga station ranking third with ridership amounting to 1,796,758 riders.
"On the Green Line, Al Fahidi Station came first in terms of ridership reported as high as 1,798,473 riders, next came Baniyas Station which was used by 1,624,902 riders ahead of Al Ghubaiba Station which clocked a ridership of 1,246,898 riders.
"The number of tram users during the first quarter of this year clocked 943,982 riders and the Dubai Marina Station topped stations with ridership of 249,196 riders, followed by JLT Station recording 121,041 riders, and in the third spot came JBR (1) Station recording 115,081 riders.