Route Map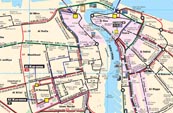 Bus Route maps are essential directive tools that present guideline for passengers and bus users to use Public Buses easily. It shows all bus routes that are available for use along with the main bus stations in the city of Dubai. The route map is marked with all bus stops, bus route direction, and the important destinations in Dubai are marked on the map as well. These marks have been introduced to the public to ease their understanding of the map and thus insure their choice of routes and service is right.
The folded rout map has maps on two sides; one side shows the city central area with more details while the other side of the map shows the maps of the whole city of Dubai with routes details, bus stops, and main bus stations.
The bus route map indicates in different colors the services of public buses. For example: red routes on the map show the express bus service which is a service with limited bus stops (it is intended to be faster than the normal service). The blue routes show the airport bus service, while the black routes refer to the normal bus service. The golden routes indicate Emirates Express Service, a bus service that connects the emirate of Dubai with other emirates such as Abu Dhabi. The list includes the route number, the beginning and ending points of destination with details of the most important stops during the journey.
The Bus Route Map include lists of some important landmarks and bus stops around the city along with the routes which passes by these stops such as:
• Hospitals bus stops
• Leisure & Sports bus stops
• Souks & Shopping Malls bus stops
• Hotels bus stops
Added to this list, the bus route map shows other important destinations' bus stops in the city of Dubai such as government organizations, airport, historical buildings, and so on.
The route maps can be found in all bus stations around Dubai, it can be collected either from the information desks at the stations or from the shelves of publications in each station. It also can be found on the website of Roads & Transport Authority here , in emergency situations, destinations and/or information can be inquired from the call centre on 8009090.