Our Public Buses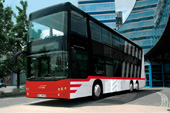 Public transport buses are designed of high quality , where the fleet is composed of a sophisticated air-conditioned buses designed to meet the requirements and specifications of customers like separate seating for women and families, in addition to services dedicated to customers with special needs
The fleet has been provided with a central bus system to display data of the direction and stages of the journey .Furthermore, specialized machines has been installed to automatically deduct the value of the tickets controlled directly by the Public Transport Agency. The capacity in most of the buses is 34 seats for the regular buses, 48 seats for the articulated buses and 81 seats for the double-decker buses.
Maintenance and operational management takes place in the depots specified for the wellbeing of the fleet , which are Al Qusais ,  Al Aweer, , Jebel Ali , Al Khawaneej and finally Al Rawiyya Depot.
Moreover, public transport provides services and facilities to meet customers' needs such as , fully equipped bus stations  , 2700 bus stop  636 of which are air conditioned . All bus stops and stations provide information related to bus schedules and timetables.