Projects
Self-service devices for public bus drivers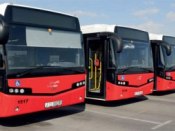 Project Description:
The Self-Service Devices for drivers at the Public Transport Agency that has been launched in Jan. 2015 targets adding improvements on the quality of services provided to the agency's drivers, as it is which is linked to the Human Resources System of the Dubai Government.
 
The self-service devices that has been deployed at Bus Depots namely at Al Awir, Al Qusais, Al Rawiyya, Jebel Ali, and Al Khawneej contributes to reducing the number of transactions received by Drivers Recruitment Section at the Department. The ranges of services drivers can avail via these devices include application for salary certificate as well as inquiry about leaves, pay roll and available leave balance.