Projects
Replacing 42 public buses by modern Euro 5 buses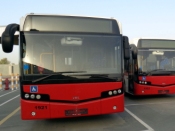 Project Description:
The project comes in support of the initiative of the Dubai Government advocating the deployment of green vehicles for a cleaner and more sustainable environment.
 
The Roads and Transport Authority has endorsed the replacement of 42 public buses by modern buses. The bus fleet of the Public Transport Agency comprises 1300 buses of the highest global standards comprising Mercedes, Volvo, Solaris, Vidal, and M.A.N makes which operate 18 hours a day to provide mass transit services. These buses are fitted with engines compatible with the European Standards (Euro 5) featuring Selective Catalytic Reduction (SCR) and Exhaust Gas Recirculation (EGR) technologies under the context of a master plan for curbing pollution resulting from vehicle exhausts, and making vehicles in Dubai more environment-friendly, particularly the fleet of public buses.
 
the use of vehicles fitted with Euro 5 compatible engines contributed to conserving the environment through curbing the harmful emissions of fuel and carbon.
 
This initiative is taken in implementation of directives of the government calling for conserving the environment and reducing the use of energy across the nation due to its importance for the public health and all development projects.