Projects
100 Smart Shelters for Public Transport riders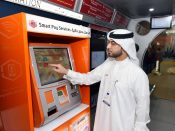 Planned Date: January 2016
Project Description:
The project covers the construction of 100 smart air-conditioned bus shelters for the use of public bus riders. Work is in hand to construct 50 shelters by the end of December 2015, and the remaining 50 will follow January 2016.

The Smart Air-conditioned Kiosk offers a wide range of services to bus riders including a free Wi-Fi internet courtesy of Du, NOL card selling & recharging, mobile phone top-ups, payment of bills of government departments, and power-charging of mobile phones. The Smart Kiosk will also display passenger information, RTA's services, interactive & promotional ads, in addition to information about RTA's services, and the selling of refreshments & snacks.