News/Events
RTA opens new Water Taxi station
18/05/2015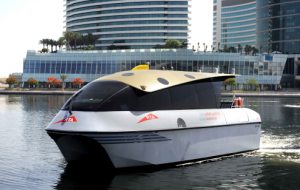 Mohammed Masoud Al Janahi, Acting Director of Marine Transport at RTA Public Transport Agency, said: "The RTA is always keen on delivering services measuring up to expectations and needs of the public among residents, visitors and tourists descending on Dubai from all corners of the globe.
"The Dubai Taxi boasts of a smooth design combining typical Emirati design of abra and modernity replicated in a roof emulating the shape of the Dubai Metro stations. It is fitted with the latest technologies of the industry and characterized by a Low Wash dual based structure and a sleek roof.
"The Dubai Taxi has a central air-conditioning interior in addition to comfortable seats simulating aircraft business class seats as they are fitted with remotely controlled LCD monitors installed at the rear of the front seat, 45 degrees reclining seats and a food tray.
The water taxi can accommodate up to 11 passengers plus the driver. It measures 11 meters in length and 4 meters in width, weighs 9 tons and can travel at a speed up to 35 knots. It is fitted with two eco-friendly engines of 370 horsepower, the best navigational devices approved by the (IMO), and the world's highest safety security and safety standards.