News/Events
RTA clinches two prestigious awards in Occupational Health & Safety, Managing Occupational Road Risks
14/05/2015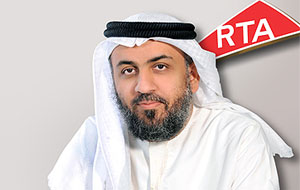 The awards come in recognition of the positive results achieved by the public transport sector overseen by the Agency in minimizing associated accidents & risks, and attaining higher occupational safety levels.
Dr. Yousef Al Ali, CEO of Public Transport Agency at the RTA, expressed his deep delight for bagging these two coveted international accolades in vital fields impacting the life of people such as public transport riders, road users and public transport employees as well. The achievement also enhances the profile of the RTA as a pioneering public transport entity in diffusing the traffic awareness and improving the safety in handling occupational risks not only in the UAE but also at the global level.
"We, in the Public Transport Agency, are keen on training public bus drivers in the Emirate of Dubai, on complying with driving, traffic and public safety rules together with the safe speeds in an effort to safeguard the lives of riders and road users alike," said Al Ali.
"We are always seeking to showcase our efforts in this vital field and other aspects through participations in local, regional and international contests and it is always thrilling to see our efforts bear dividends in clinching awards that will also amplify the standing of the RTA in the community in general and among public transport riders in particular," noted the CEO of Public Transport Agency.
"Bidding for these awards was intended to complement our previous endeavours where we submitted a bid in 2013 entitled: Accidents Investigation Decision-making AID-50, or (AIDA 50); which resulted in winning the Silver Award in the category of Managing Occupational Road Risks," he explained.
"The objective underlying the latest submission for the award was to showcase RTA's efforts and its role in addressing the international requisites of safety in keeping with its vision of Safe & Smooth Transport for All. The ultimate objective of the move was to achieve excellent improvements in statistics relating to traffic accidents triggered by public bus drivers in Dubai. Results achieved last year reflected a rating of 0.49 accident per 100 thousand kilometers; reflecting a 53% improvement when compared with statistics of 2012. The Public Transport Agency has also achieved remarkable improvements in slashing job-related injuries from 0.7 to as low as 0.29," revealed Al Ali.
"The project is based on five key pillars namely: classifying public bus accidents, listing factors impacting bus accidents, charting out processes for investigating bus accidents along with investigation templates, identifying the existing technological systems, and introducing a technological system for investigating traffic accidents," concluded the CEO of Public Transport Agency.
The two awards will be presented in a ceremony held in London on 16 June 2015 in the presence of the President and Members of the Royal Society for the Prevention of Accidents, featuring attendees from all over the globe.