News/Events
RTA to start booking appointments of vehicle testing from August 23rd 2015
18/08/2015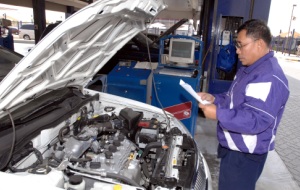 The Licensing Agency, Roads & Transport Authority (RTA) will set in motion a system for booking appointments for technical testing of vehicles starting from August 23, 2015 in cooperation with service providers undertaking these tests in Dubai. The system will run tentatively for three months during which the performance will be assessed for further improvements.
"The new system will ease the procedures for customers as we are keen on doing what it takes to bring happiness to people and raise customers' satisfaction," said Ahmed Bahrozyan, CEO of RTA Licensing Agency. "The booking of appointments for carrying out vehicle testing will avail customers the opportunity to select the place and timing they wish to have their vehicles tested in without the hassles of searching or waiting for hours," he commented.
"Clients can book appointments through RTA's portal, Call Center (8009090) or the concerned testing centers whose numbers and working hours are shown on RTA's website. Thus customers can select the time and place that suit them in any of our service providers in Dubai namely: Wasel Nad Al Hamar, Quick, Tasjeel Al Barsha, Tasjeel Al Qusais, Tasjeel Al Warsan, Tasjeel Jebel Ali, Tamam Al Ghandi, and Wasil Al Jadaf. The priority in booking vehicle testing times will be given to customers who make earlier booking.
"The system will run over a trial period of three months to enable us monitor the satisfaction of customers and integrate their feedbacks and views in a form of improved procedures capable of upgrading the service and realizing the objectives set to clear the way for the permanent implementation of the system in future," added Bahrozyan.
Commenting on the conditions set for the technical testing, the CEO of Licensing Agency said: "There are several steps ought to be taken by the owner of the vehicle before heading to the technical testing. These include checking the effectiveness of brakes, validity of tyres, watching for leakage in cooling or lubricating fluids, and checking the operational condition of the lighting system including hazards light, side mirror, and safety belts."