News/Events
RTA set to write off vehicles unregistered for 3 years or more
13/05/2015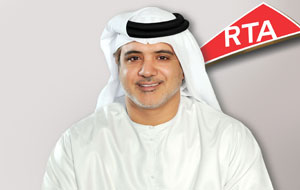 The move is taken in implementation of the Resolution of RTA's Board aimed at ensuring the safety of vehicles on road and curbing potential accidents caused by these vehicles as they lack maintenance and annual traffic safety tests mandated by traffic rules.
Mohammed Abdul Karim Nimat, Director of Vehicles Licensing at the RTA, said: "This resolution has come to light after an elaborate study of various safety, security and quality aspects. The study also focuses on the financial, service and environmental aspects to which the RTA attaches top priority, and seeks to achieve the highest results in this field at world-class standards.
"The Licensing Agency will start removing vehicles whose registration expired three years ago or more from the traffic system in early July this year. This grace period offers owners the time to have their vehicles tested and registration renewed as per the applicable systems in the Emirate," he noted.
"The Agency will start writing-off vehicles whose owners would fail to renew their registration for three years or more in order to remove them from roads starting from the beginning of next July. The move is intended to maintain the safety of road users and public properties in the Emirate of Dubai in implementation of RTA's vision of Safe and Smooth Transport for All.
"Failing to have these vehicles subjected to the annual traffic safety tests renders them un unsafe transit means, and accordingly they pose risks to driver, riders and cargo as well as road users in the Emirate," explained Niamat.
"Through this course of action, the RTA is targeting sizable numbers of reckless owners of vehicles who do not observe renewing their vehicles registration. Those individuals do not actually appreciate the importance of renewing vehicle registration, thus exposing themselves as well as others to danger. Moreover such vehicles become liable to defects as they get older with no maintenance carried to keep them roadworthy.
"RTA's priorities and strategies also include ensuring that safety and security features are addressed in these vehicles such that they are safe for all users. The RTA has made all preparations during the grace period from now until the beginning of July this year to enable owners of vehicles whose registration expired three years ago or more to have their vehicles tested and renewed," commented Nimat.
"Vehicle testing and licensing is now possible in as much as 25 centers spanning different areas across the Emirate operating 24-hours a day. Smart apps and RTA website can also be used to save much of the time and effort taken in completing this procedure.
"The RTA calls upon owners of vehicles whose registration expired three years ago and more to immediately report to vehicles testing & licensing centers to renew their vehicles' registration in order to ensure that they are safe and secure for themselves and others," added the Director of Vehicles Licensing.