News/Events
Al Tayer explores coop with British Consul in Dubai
24/06/2015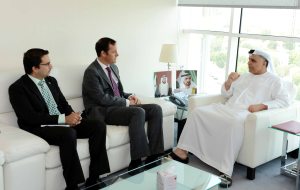 During the meeting, the two parties discussed means of boosting bilateral relationships and sharing expertise between RTA and British firms operating in the fields of rail, roads and public transport, besides screening the forthcoming road and infrastructure projects set to be rolled out by the RTA in Dubai. Discussions also went further to include options of funding the projects to be undertaken by RTA.
Al Tayer acquainted the British diplomat with key projects mulled by  RTA to upgrade the infrastructure of roads and public transport networks. These projects, says Al Tayer, include constructing and operating rail projects costing billions of dirhams such as Route 2020 for extending the Red Line of the Dubai Metro to the exhibition area of Expo 2020, extending the Green Line of Dubai Metro, and undertaking Phase II of the Dubai Tram project. Future projects offer a good opportunity for companies to bid for the projects released by RTA.
The British Consul General in Dubai commended the upswing seen by the Emirate of Dubai in such a short time, rendering it a focal point for entrepreneurs, business leaders and tourists. He added that he would be looking forward for greater cooperation and exchange of experiences between British firms and RTA in undertaking and managing the infrastructure of roads and public transport sector.