Activities
Our Customer: In a day marking one of the local or international events, the Customer Service Center Team honours one of RTA customers through a random selection of a number from the Queuing System. The aim of this event is to promote the interaction between the management of the Main Customer Service Center and valued customers of the RTA. It also enhances the close links between employees & customers through creating mini festive atmosphere to bring about a bit of fun to break the daily work routine.
Customer FeedBack System (CFS): Customer Feedback system is a modern and unique system, gathering the electronic data the clients of Main Customer Service Centre enter, which reflects their satisfaction with the service provided to them. Out of the Centre's keenness to implement the principle of communication with clients' and develop the services of Roads and Transport Authority provided to them by measuring client's satisfaction through this service, the Centre has decided to monthly honour clients using the system most frequently to encourage them give their feedback on the services provided to them.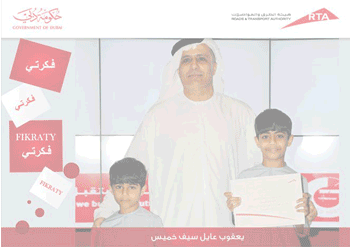 Complaints
RTA receives notifications and complaints from its customers through various channels i.e.…online, 8009090, RTA P. O. Box, fax, email, walk in customers, social media, customer councils and focus groups, media channels and more…
All complaints and notifications are studies and replied to in a timely accurate manner to ensure customer satisfaction.
A state of the Art CRM System is used to track complaints progress from start of log in until closure and complaint resolution.
The Customer Service Department has set many performance KPIs to ensure the timely treatment of complaints
Ideas and Suggestions
We welcome your out of the Box ideas and suggestions to improve our services ….we want you to help to move to the next level
All suggestions can be logged online (please click here) or call 8009090 to give your idea…We also accept ideas via fax, email and other channels. Make sure your ideas are new, creative, has the out of the box element and will help with one of the below criteria:
- Best Utilization of Resources
- Improve Major Processes
- Environmental sustainability
- Affects RTA Image
- Improves Safety
- Improves work quality
Submit your feasibility study or plan along with the suggestion for a better chance to win one of our awards.
Best Feasible suggestions are awarded annually as per below criteria:
Award Category
Priority Ranking
Financial Outcome
Reward
Feasible Suggestions with Financial Outcomes
First
AED 1,000,000+
5% of income generated (not to exceed AED 50,000)
Second
AED 750,000-999,999
5% of income generated (not to exceed AED 40,000)
Third
AED 500,000-749,999
5% of income generated (not to exceed AED 30,000
Fourth
AED 250,000 – 499,999
5% of income generated (not to exceed AED 20,000
Fifth
AED 100,000 – 249,999
5% of income generated (not to exceed AED 10,000
Sixth
AED 99,999 or Less
5% of income generated (not to exceed AED 5,000
Best Feasible suggestions are awarded annually as per below criteria
Award Category

Priority Ranking

Financial Outcome

Reward

Feasible Suggestions with Financial Outcomes

First

AED 1,000,000+

5% of income generated (not to exceed AED 50,000)

Second

AED 750,000-999,999

5% of income generated (not to exceed AED 40,000)

Third

AED 500,000-749,999

5% of income generated (not to exceed AED 30,000

Fourth

AED 250,000 – 499,999

5% of income generated (not to exceed AED 20,000

Fifth

AED 100,000 – 249,999

5% of income generated (not to exceed AED 10,000

Sixth

AED 99,999 or Less

5% of income generated (not to exceed AED 5,000
Each non financial suggestion that is approved by RTA as feasible counts as 5 points
Award Category
Priority Ranking
Annual Reward
Best Individual And Best Group Suggestions
Best individual non-financial suggestion
AED 5000
Best Group non-financial Suggestions
AED 1,500 (maximum of 4 members in a team)