Apr 19 2017
Emiratis form 54% of RTA total workforce of 6310 employees
(Emiratization reaches 96% in leadership posts; youth constitute 79% of leaders in the RTA)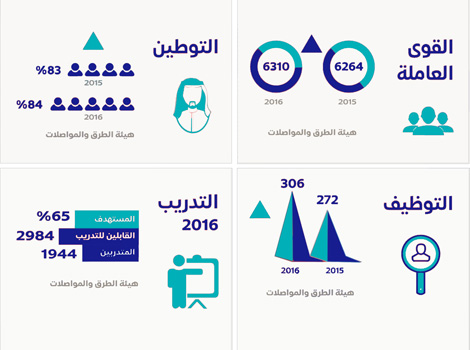 HE Mattar Al Tayer, Director-General and Chairman of the Board of Executive Directors of Roads and Transport Authority (RTA), revealed that the total number of RTA employees by the end of 2016 clocked 6310 personnel. This number comprises 3393 administrative & technical staffs and 2917 bus drivers. Emirati employees have reached 1848 in number, which accounts for 54% of RTA's total workforce (excluding bus drivers). Emiratization in jobs open for Emiratis has reached 84%. The RTA has employees base of diverse backgrounds affiliated to 49 different nationalities.


"Emiratization of senior leadership posts in the RTA is as high as 96%, and youth (aged 25-45) constitute 79% of RTA leaders. Emiratization of middle leadership positions has reached 83%, and youth constitute 70% of this category. The RTA has 704 female employees, forming 21% of total employees of the RTA (excluding bus drivers). The number of Emirati females employed by the RTA amounts to 608 girls accounting for 18% of total employees of the RTA. Emirati females occupy about 13% of leadership positions and 17% in specialist jobs. The RTA is keen on improving the skills, offering training and bringing happiness to its employees, and accordingly, RTA's overall job satisfaction rating amounted to 81% last year.


"The RTA is making every effort to implement the directives of the senior leadership to nurture an ideal environment for supporting Emiratis and fostering young leaders capable of shaping the future and innovating leadership tools for the next level. The RTA provides an array of training programs including leadership programs aimed at leveraging the skills and administrative competencies of RTA leaders. It also grooms youth to take senior leadership positions.


"It has also rolled out Al Qudwah (Role Model) program aimed to utilise the leadership expertise in abundance at the RTA through transferring it to the second & third line of leaders from Emiratis employees. There is also the New Manager Program; which facilitates the adaptability of the new manager to the business environment. The program helps educate managers about all policies and systems applicable to the central units of the RTA.


"Programs offered also include Pioneer License as well as overseas scholarships & training for young Emirati prospective leaders to gain knowledge & skill through exposure to the best technologies and practices in the world. The RTA has a variety of programs for fresh graduates offering them placements and internships during summer in preparation for their undergraduate projects. The RTA also has its scientific research award; which is open for a wide spectrum of applicants.


"The RTA also offers scholarships for high-performance students to pursue their studies in fields compatible with RTA's future projects. It also offers the Academic Program enabling employees to complete their higher studies in three programs: Engineering, General Master's Degree and Diploma.